Built-in Bluetooth 5.0 in the Thinkware Q1000

Connect Conveniently with the Thinkware Q1000 Dash Cam Bluetooth 5.0 Functionality
With the driver's convenience and video viewing satisfaction in mind, some dash cam manufacturers have begun to transition from displaying footage on dash cam screens to mobile apps.
We understand that connecting a device wirelessly can be difficult at times, and Thinkware has just put an end to that with their brand new Bluetooth feature on the Thinkware Q1000.
A Glimpse of Thinkware Q1000 Dashcam

Expanding on Thinkware's highly successful Q800 Pro model, the Thinkware Q1000 is a dual dash cam system that captures in 2K resolution to both the front and rear camera of the vehicle, thanks to the 5.1MP Sony STARVIS IMX335 image sensors. The Sony STARVIS IMX335 is the same image sensor used in many excellent 2K QHD dual-channel dash cams in the market, including the Thinkware X1000, VIOFO A229 and FineVu GX1000.
Important details are captured with improved contrast and clarity due to its advanced image technology such as True HDR and Image Dewarping. The 156° wide angle lens view also reduces blind spots and records more event details.
More than the excellent recording capabilities, the Q1000 also prioritized the user convenience by introducing built-in Bluetooth 5.0 connectivity.
Since the Thinkware Q1000 2K QHD cam is screenless, you can access and playback the video on your smartphone through the Thinkware Link App. This mobile service allows users to view recorded footage or real time streaming, while also providing access to the dash cam settings.
Problems connecting the app and dash cam are a common complaint about Thinkware dash cams, and we are pleased to see that Thinkware is attempting to resolve the issue with a couple of improvements.
The Q1000's new built-in Bluetooth 5.0 allows hassle-free dash cam pairing with your compatible Android or iOS device - not just to the Thinkware Link App for viewing and sharing videos, but also to the Thinkware CONNECTED App that is built for Cloud and additional parking mode surveillance functionality.
Apart from viewing videos, the Bluetooth quick pairing also helps in connecting to the device for a more convenient configuration of the settings.
Clearly, with the Bluetooth 5.0, connection is a lot quicker than before. In fact, after registering the dash cam on the app, the device already connects automatically without having to enter a separate ID or password. Just make sure that your phone is not currently paired to another Bluetooth device before you connect.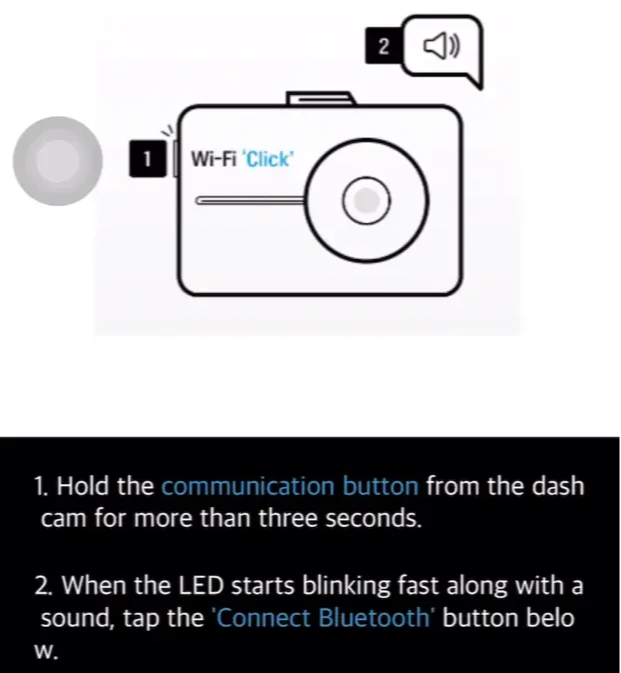 What other new features did Thinkware add to the Q1000?

Along with the improved Bluetooth function, the Thinkware Q1000 also boasts new dual-band wifi connectivity so your iOS or Android smartphone can seamlessly connect to the Thinkware Q1000 via the 2.4 GHz or 5GHz bandwidth for faster file transfers.
The Q1000 is also now more equipped for nighttime driving and includes Thinkware's latest Super Night Vision 3.0 technology to improve video brightness in low-light conditions.
Moreover, Thinkware designed the cutting-edge Thinkware CONNECTED App - an enhanced version of the Thinkware Cloud - that allows you to instantly receive impact notifications or monitor remotely what's happening around your vehicle via your smartphone.
The Thinkware Q1000 2K QHD Dashcam Convenience

In terms of tech, reliability and user convenience, the Thinkware Q1000 ticks all of the boxes. With new connectivity features such as dual-band Wi-Fi and the Bluetooth 5.0, you get to focus more on the driving, while also saving you loads of time.
The Thinkware Q1000 is available as front-only 1-Channel or a front-and-rear 2-Channel system. If you are also looking for an all-inclusive solution, check out the Thinkware Q1000 Signature Bundle - it comes with everything you'll need to seamlessly setup your Q1000 dash cam and a BlackboxMyCar PowerCell 8 battery pack in your car, truck, or SUV.