Unleash the Full Potential of Your Cloud-Ready Thinkware
"Anytime, Anywhere, like the clouds are following us from the sky, Thinkware Cloud will take care of your loved ones."
Thinkware Cloud is the perfect solution for those who care about their young and old family members. Push notifications, real-time video, GPS tracking, and Cloud backup, the possibilities are endless. Thinkware Cloud is all about unleashing the full potential of your Thinkware dash cam so that you can be there for your vehicle and your loved ones, anytime, anywhere.

Cloud Dash​cam + Internet Connection + Thinkware Cloud App
Take advantage of a mobile or car-embedded Internet connection and a Thinkware Cloud-ready dash cam, Thinkware Cloud connects you to your car through the Cloud. Using the Thinkware Cloud app on your smartphone or tablet, you see in real time where your car is and what is happening around it.
How does Thinkware Cloud benefit you?
Thinkware Cloud is designed with individuals, families, and business owners in mind.
With the Thinkware Cloud, you can keep track of your family's whereabouts and stay alert in case of unexpected situations, allowing you to provide assistance immediately, even if you're miles away. Receive notifications on parking incidents as well, and check what is happening around your car right from your mobile device.
Fleet Managers and Business Owners
Whether you want to know if your drivers are on-route to their destinations or you need to provide customers a more accurate estimate on the delivery time, Thinkware Cloud allows you to track the location of your vehicles on a map in real time. There is no limit on the number of dash cams you can register to a Thinkware account, so you can monitor all your vehicles in real time from the palm of your hand.
Your Thinkware Cloud account is FREE!
The Thinkware Cloud app allows you to create a free account easily. Your free Thinkware Cloud account includes the following features.
300 Minutes Remote Live View
Stream up to 300 minutes of real-time video from your Thinkware per month. Quota refreshes on the 1st of each month.
There is no limit on the number of registered devices, which is particularly great for fleet managers who have multiple vehicles.
520MB to back up your video files in the Cloud, that's equivalent to 20 Driving Impact Videos.
100 Cloud Video Downloads
100 remote downloads or video replays via the Cloud per month.
Thinkware Cloud requires a Personal Hotspot connection on an iOS/Android smartphone and a GPS connection to be used.
Innovative Cloud features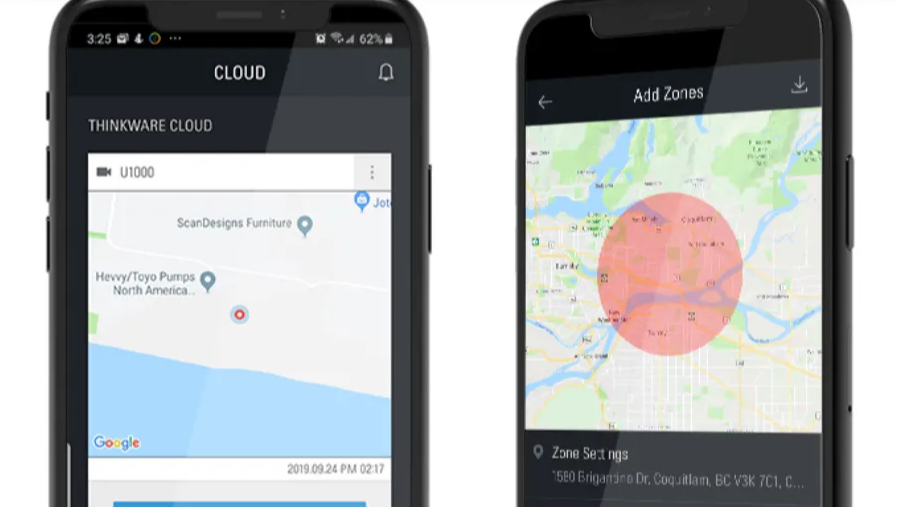 GeoFencing uses GPS technology to create a virtual geographic zone that can be used to monitor the dash cam's whereabouts. Set up to 20 geofencing zone and get notifications for zone entry or departure, or both.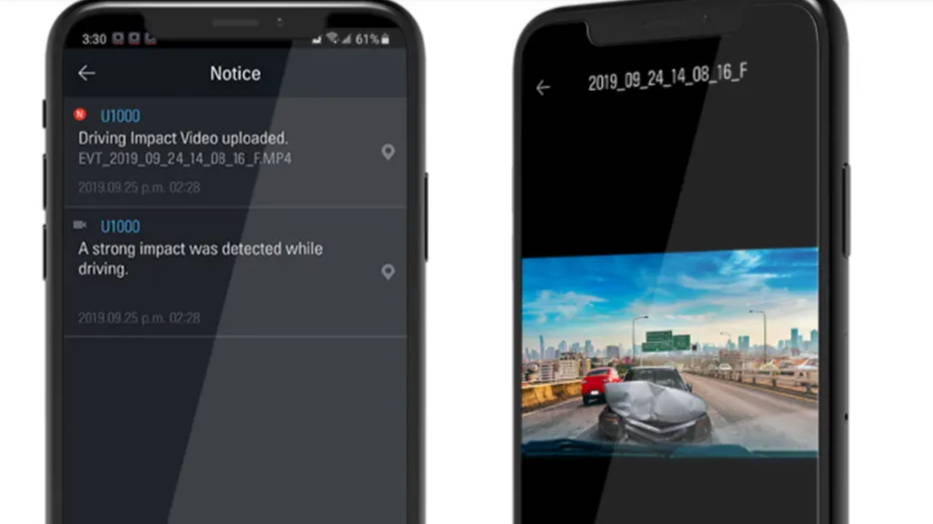 Driving Impact Notification

If an impact is detected in Continuous Recording Mode, a notification will be sent to your smartphone via the Thinkware Cloud mobile app along with a 20-second clip of the footage.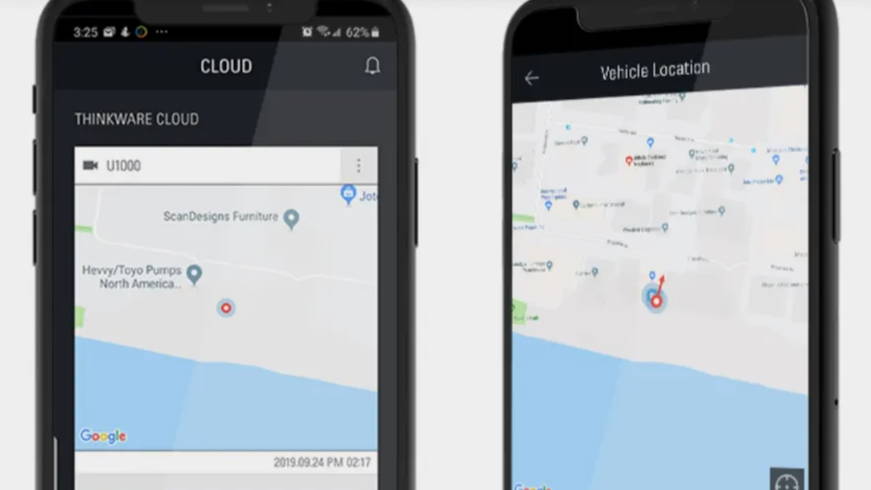 Using GPS-tracking, the current location of the vehicle is displayed on a maps view, allowing you to follow the speed and the direction of travel. Data is refreshed every 10 seconds to give you the most up-to-date information.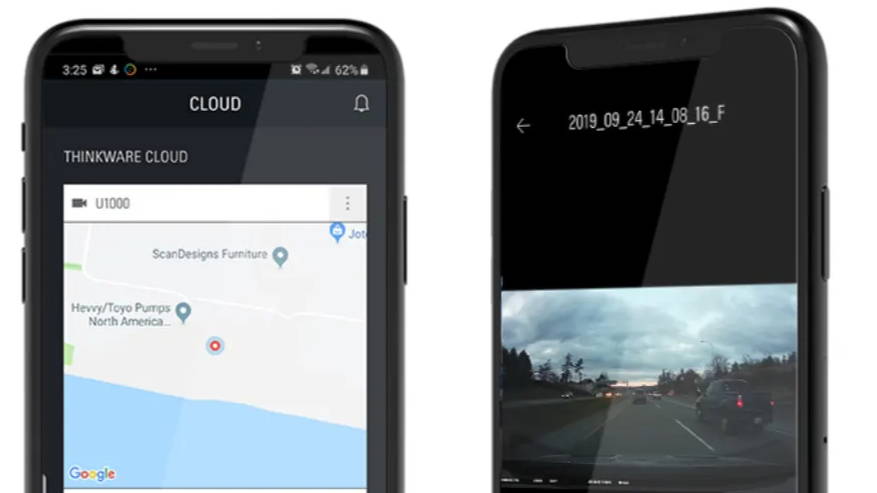 *U1000-exclusive
A live view streaming feature that allows you to see what the dash cam sees in real time.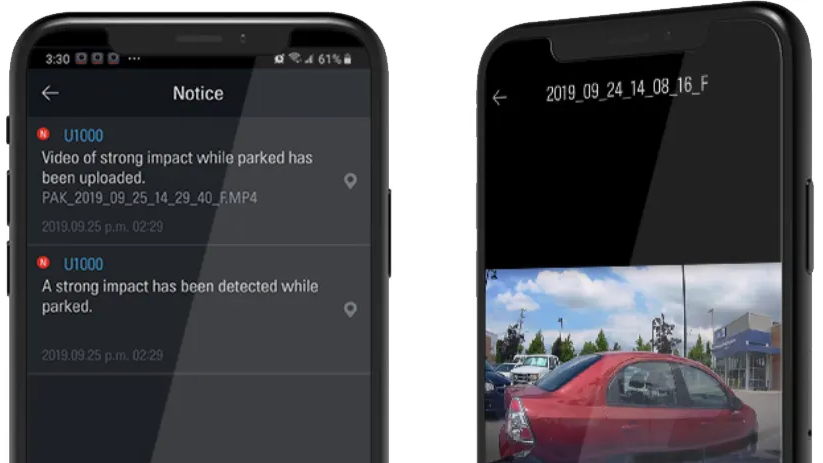 Parking Incident Notification

*U1000-exclusive
In the event of an incident happening while your vehicle is in Parking Surveillance mode, a notification will be sent to your smartphone along with a 20-second video footage clip.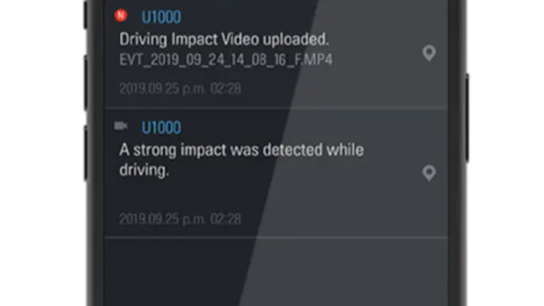 Store up to 20 Driving Impact Videos on the Thinkware Cloud. Once the cloud storage is full, the next driving impact video will record over the oldest video file to ensure the incident is recorded.
Thinkware Cloud works with the Thinkware U1000, Q800PRO or F800 Pro.
If you have any questions, our product experts are standing by to help find the right dash cam for you. Contact us today!
Our Thinkware Cloud-Ready Dash Cams