BlackVue DR590X-2CH vs. Pioneer VREC-DZ700DC

Can a Full HD Dash Cam Satisfy You?
Pioneer is a notable brand in the electronics industry, especially in terms of entertainment and audio systems. Taking a great leap, Pioneer has also begun to venture into the car surveillance scene with the Pioneer VREC-DZ700DC 2-Channel dash cam.
While Pioneer has already proven its reliability in its decades of expertise in manufacturing car electronics, does it have what it takes to face also-notable dash cam brands like BlackVue? If you search for reviews and user experiences, Pioneer doesn't have that much - which we don't find as a good sign. Let's find out in this full HD, dual-system comparison of the VREC-DZ700DC and BlackVue's entry level dash camera, the DR590X-2CH.
Pioneer VREC-DZ700DC 2-Channel
Review: Pioneer VREC-DZ700DC 2-Channel Dash Cam

Pioneer's VREC-DZ700DC dash cam system delivers on video coverage and image quality with two full HD cameras. For this model, Pioneer uses a Sony STARVIS image sensor to provide the best possible picture in bright light and at night.
The front camera captures a diagonal Wide Viewing Angle of 160° recording in Wide Dynamic Range (WDR) for enhanced imagery, while the rear camera records a diagonal viewing angle of 137° recording using High-Definition Range (HDR) technology.
Moreover, the VREC-DZ700DC's camera system is also built rotatable, with the front camera at 220° and the second/rear at 360° capacity. This easily allows capturing either vehicle exterior or interior passengers including children.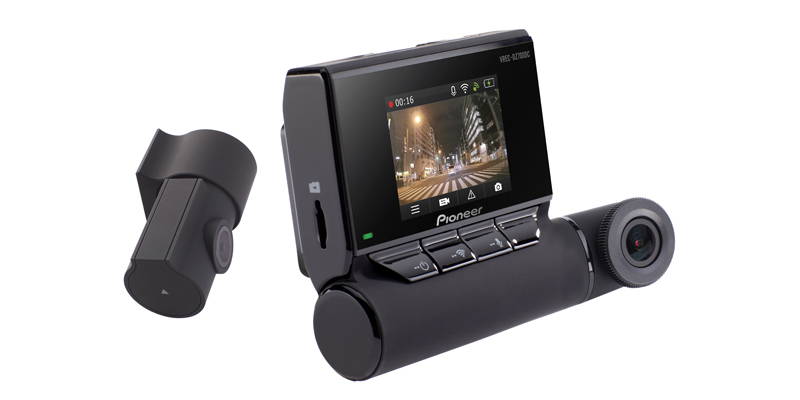 How can I access the videos recorded by Pioneer VREC-DZ700DC?

You can check out your recorded video on the dash cam's 2" display or access it on your phone through a mobile app. Pioneer's Dash Camera app gives you access to extra features for viewing and sharing recorded video.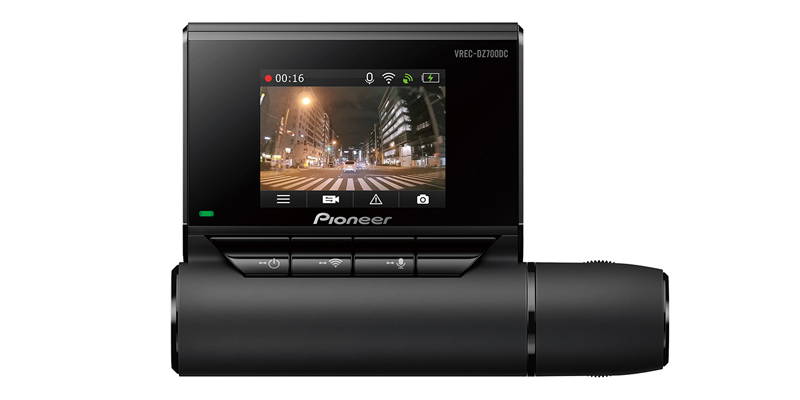 Does this camera support parking mode and other security features?

Yes, Pioneer also allows you to record the surroundings of your car for 24 hours - but only if you do hardwiring. The VREC-DZ700DC's parking mode feature automatically switches from normal driving mode to Parking Mode when the ignition is turned off, where the camera will record both 20 seconds before and after an occurrence. Aside from parking mode, this model also offers Security mode.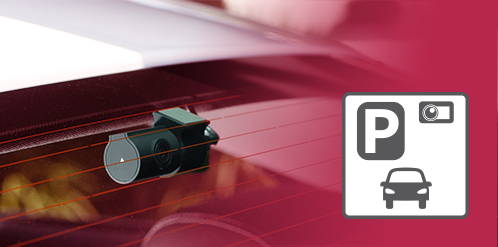 How does Pioneer VREC-DZ700DC's Parking Mode differ from its Security Mode feature?

The difference between Security mode and Parking mode in this car camera is Parking mode always records 24/7 or until the vehicle battery gets below 11.2 volts, and it goes into low power consumption mode.
When the pre-set Parking Mode's time elapses or the internal battery has depleted, Security Mode is automatically activated when the camera detects vibration, to perform 24 hours per day, 365 days per year security mode surveillance. This also extracts power directly from the vehicle's battery power via the hardwire power cable connection.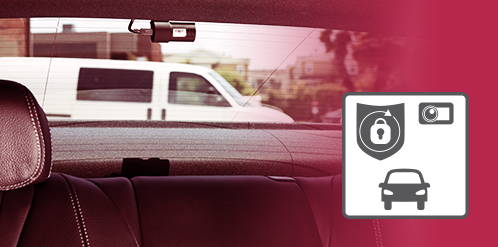 Is this Pioneer dash cam equipped with Wi-Fi connectivity?

As mentioned, the videos recorded by this dash cam can be viewed on your smartphones. The VREC-DZ700DC includes built-in Wi-Fi to connect to most compatible Android and iPhone smartphones using Pioneer's exclusive Dash Camera Interface app.
The Dash Camera Interface allows you to access recorded videos, capture manual recordings or photos, download recorded data, or set up the VREC-DZ700DC through your compatible smartphone device.
However, a lot of users have shown their dismay on the said interface. If you're using an Apple device, you may experience more errors than not. The little reviews that this model has online mostly share about 'downloading' being a pain, which we hope Pioneer can fix so users can have a better experience in viewing their footage instantly.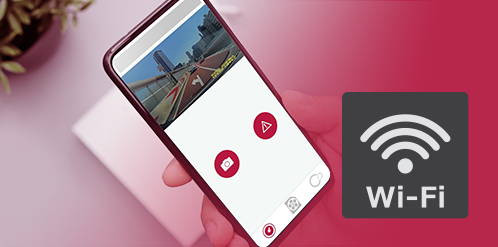 Is the VREC-DZ700DC convenient to install?

If you're looking for a dash cam that you can conveniently plug and play using your socket charger connection, then the Pioneer VREC-DX700DC is not for you. The only way you can use it through hardwiring dash cam installation - and Pioneer recommends a professional installation rather than doing it yourself.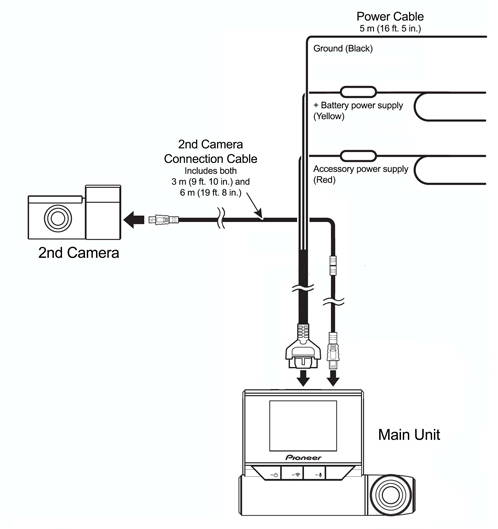 Does this include a memory card?

Yes, it does. A purchase includes a 16GB memory card to - somehow - increase your storage capacity. If you want to upgrade it, the VREC-DZ700DC can accommodate micro SD cards up to 128GB.
Review: BlackVue DR590X-2CH Dash Camera

The DR590X-2CH is BlackVue's entry level, but high performance dual system dash cam that covers an ultra-wide 139° wide angle and excellent low-light performance.
Similar to the VREC-DZ700DC, the DR590X-2CH sports 1080p full HD resolution at 30 frames per second (fps) for both front and rear cameras. It also uses Sony's premium STARVIS sensor, providing outstanding performance in low-light conditions.
In terms of image recording, this BlackVue captures better than the VREC-DZ700DC, especially during night time as it is equipped with a Night Vision feature that further enhances details in dark environments, where clarity matters most.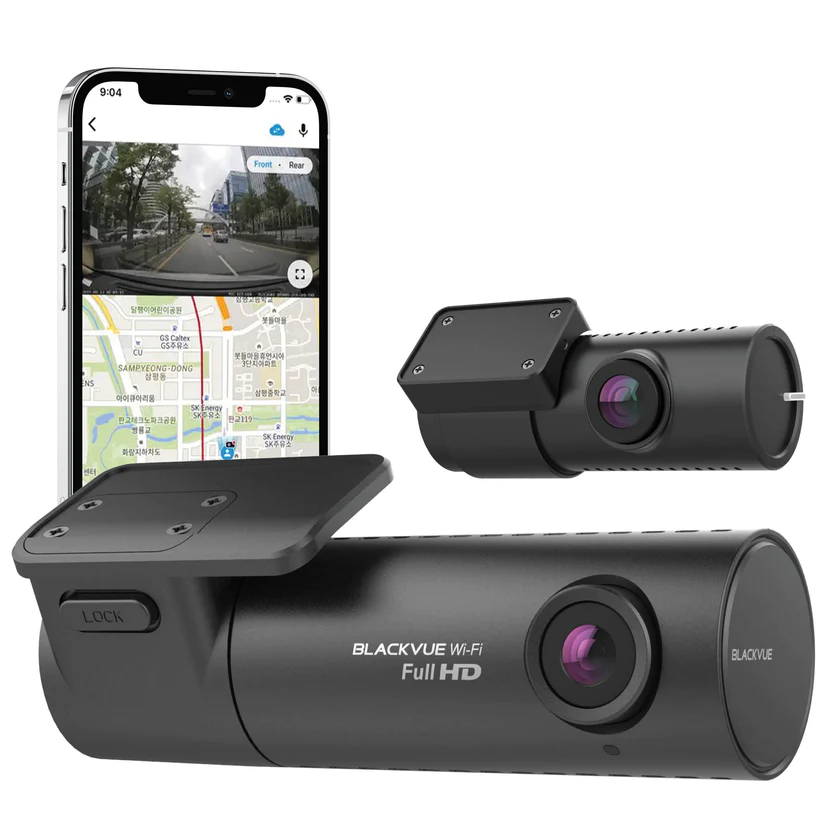 Short line of text to describe the image (if video is displayed, a short line with a link to our YouTube Channel)
Does the BlackVue DR590X have a screen?

No, it doesn't - and it's something that premium dash cams don't normally have. The BlackVue DR590X-2CH, like the rest of its product line, is built screenless. It keeps the overall award-winning design of its dash cam simple and stealthy - with an all black tube shape and adhesive mount - allowing you to hide it right up behind your rear-view mirror.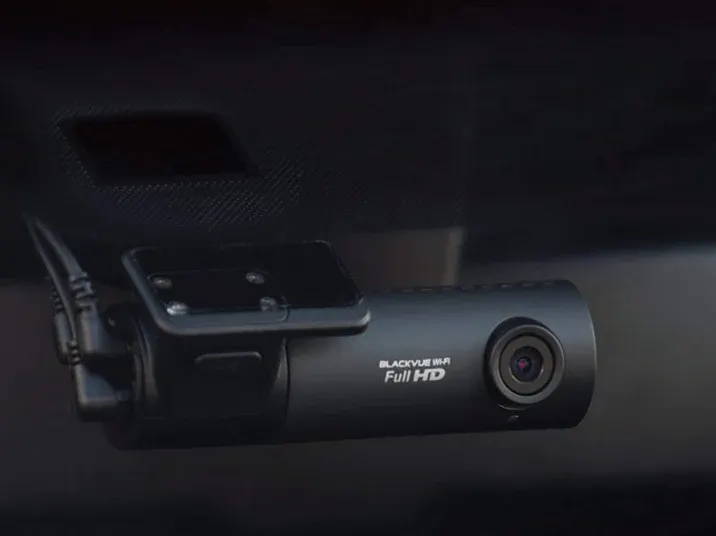 How do I install the BlackVue DR590X-2CH?

While Pioneer's entry gives you no other option but to hardwire install it to your car, this BlackVue is more convenient to use - and own. As we all know, BlackVue dash cams are easy to install and the DR590X is no exception.
Straight out of the box, simply attach the front unit to the windshield behind the rear view mirror with the provided double-sided tape. This way, the dash cam is invisible to the driver's eye. Then, plug the power cords into the cigarette lighter / accessory power socket of your vehicle and it will automatically start recording as you turn the ignition on. Once set, you can forget about it, knowing it will reliably record your drive.
What parking modes does the DR590X-2CH support?

Thanks to BlackVue's built-in G-sensor and advanced motion and impact-triggered recording, you can stay confident when leaving your car unattended on the streets, parking lot or even your own driveway.
In Parking Mode, the BlackVue DR590X-2CH monitors your parked vehicle, recording videos when it detects movement or impact. It also includes the few seconds before the triggering event, thanks to buffered recording.
This function will work if you choose to hardwire the dash cam to your vehicle's fuse box. The good news is because the DR590X comes with a built-in voltage monitor, you don't even need the BlackVue Power Magic Pro (PMP) like the old BlackVue S-series. Of course, for extended recording times we strongly recommend using the Power Magic Ultra Battery B-130X or the BlackboxMyCar PowerCell 8 Ultra Battery Pack.
What are the ways to access the recorded footage from this BlackVue dash cam?

The BlackVue DR590X-2CH might dashboard camera might be screenless, but accessing the video is more of a breeze. All video footage is automatically saved on the microSD card, and the loop recording feature ensures that there is always storage space for your latest footage.
Moreover, there are many ways for you to play back your clips. You can remove the microSD card and plug it into your PC or Mac using the included microSD card reader.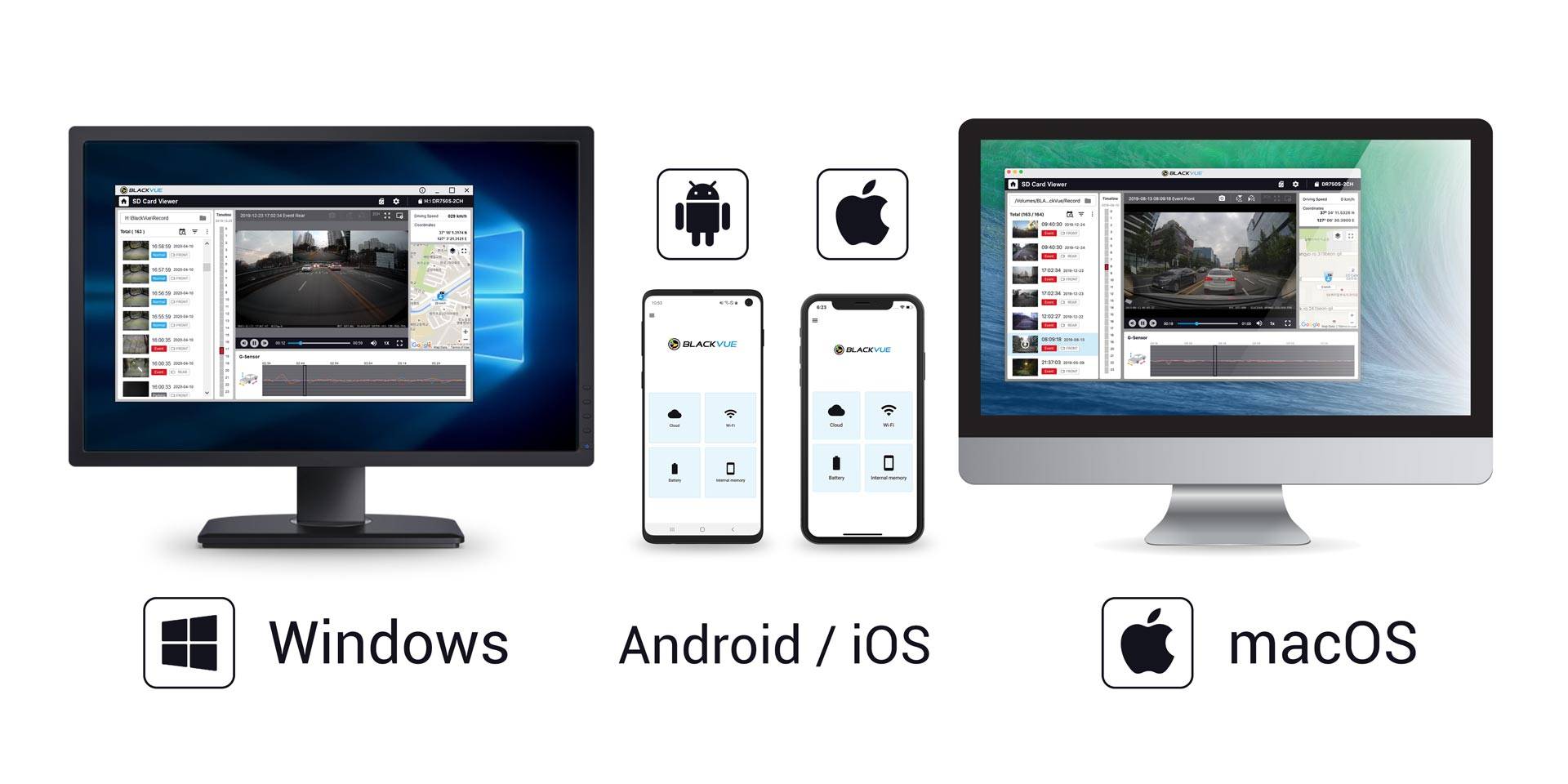 Are my files safe in the BlackVue App?

While Pioneer has been receiving dissatisfactory reviews on its app responsiveness and reliability, BlackVue considers its smartphone (and even desktop) viewing feature an aggressive edge.
With the BlackVue App, you can connect via Wi-Fi to your dash​cam to retrieve videos on the spot. Our dash cam experts also like to use the app's camera Live View for easy set-up and positioning of the DR590X in the vehicle.
For those with a lot of footage for playback, the BlackVue Viewer is probably the easiest solution. Access recordings on your camera's microSD card, simultaneously viewing front and rear camera footage, moving maps and GPS data including time, date and speed. All video clips are listed by date, time and recording mode (Normal, Parking, Event, etc.), making it simple to quickly identify and archive important footage.
Additionally, this BlackVue has the following features to ensure that every file you have is protected:
Scheduled Reboot: Schedule a daily automatic reboot (optional—at night by default) to minimize potential errors. Reboots happen only if the dashcam is in Parking Mode and not writing data to the microSD card.

Event Files Overwrite Protection: dashcams record in a loop, overwriting older files when the memory is full. BlackVue can prevent Event files (triggered manually or by impacts) overwriting. Up to fifty (50) files can be protected this way. You can choose to allow new Event files to overwrite past Event files, thus keeping the latest fifty.

Adaptive Format-Free File Management: this BlackVue-developed file system improves recording stability and requires less microSD card formatting.

SD Card Failure Alert: your BlackVue detects as soon as the microSD card fails and warns you with a "Please check SD card" voice alert.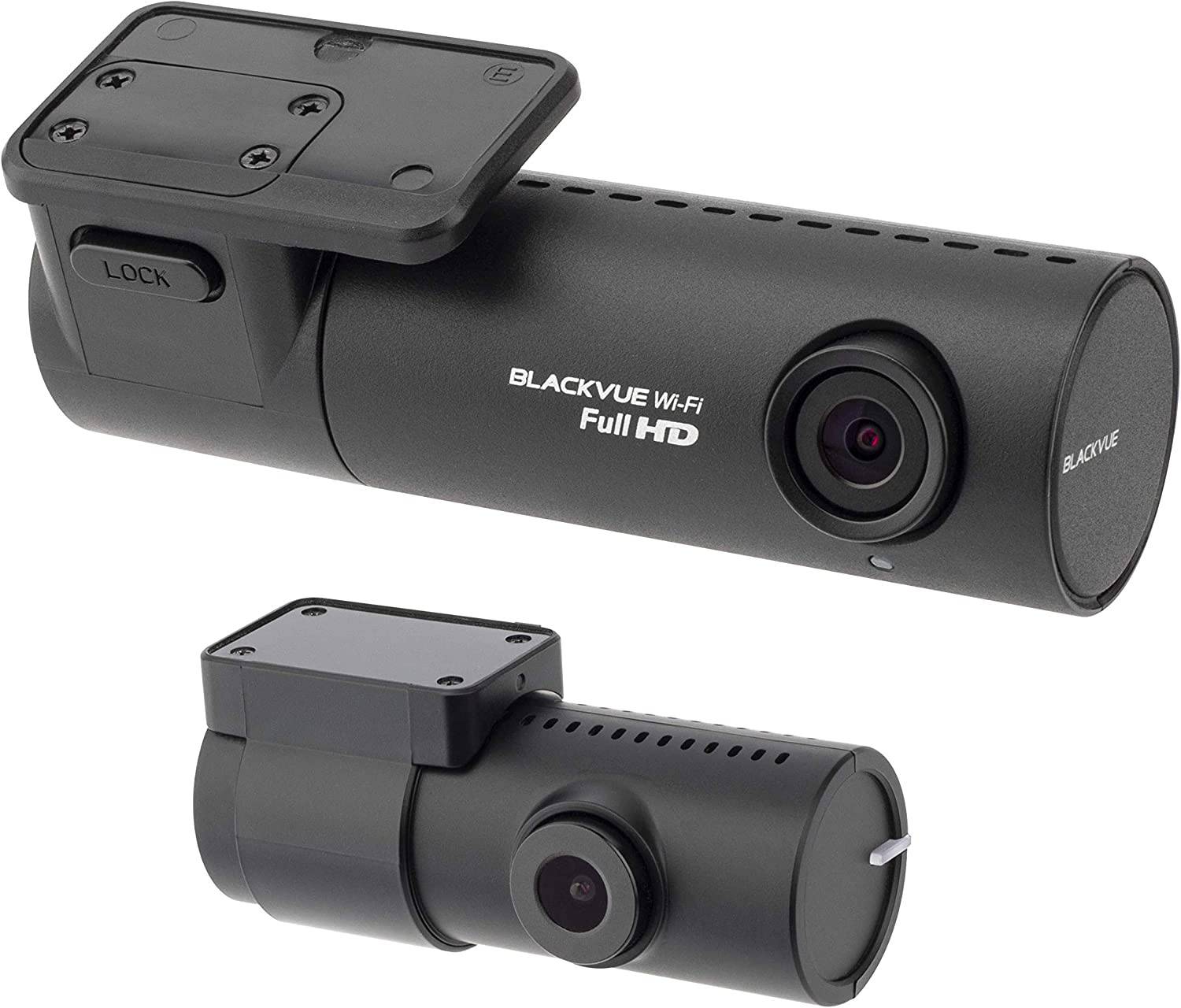 Pioneer VREC-DZ700DC provides a 16GB SD Card - does the DR590X-2CH have one too?

If you purchase the BlackVue DR590X-2CH dash cam, you will not just get a 16GB micro SD card. You will get 32GB, and the maximum storage capacity is also bigger than Pioneer's 128GB, which is 256GB.
BlackVue DR590X-2CH vs. Pioneer VREC-DZ700DC 2 Channel Dash Cam

Resolution (Front | Rear)
Image Sensor (Front | Rear)
Full HD Front, Full HD Rear
Full HD Front, Full HD Rear
-20°C - 70°C (-4°F - 158°F)
Verdict: BlackVue DR590X-2CH vs. Pioneer VREC-DZ700DC Dual Dash Cam - Which is Better?

If you are the type of driver who appreciates the Full HD video resolution and doesn't necessarily need all the additional bells and whistles of the premium 4K UHD models, these two dash cams would work for you.
Even though both cameras use Sony STARVIS image sensors, 1080p resolution, the quality of the recorded image still differs - especially with the BlackVue's Night Vision which the Pioneer model didn't have. This is not just for viewing, but also for your security in capturing road details even in low-light situations.
Both have parking modes, Wi-FI connectivity, and a dedicated app for convenience. The thing is a lot of reviews from users are not happy with how Pioneer built theirs - unlike with BlackVue, user experience is a breeze - from the interface up to the speed, responsiveness and reliability not just of their mobile app, but also of their web viewer.
The storage capacity of the BlackVue DR590X-2CH is also bigger at 256 GB, giving you the peace of mind and space that you need.
In terms of installation, there is also a huge difference between the two. The Pioneer VREC-DZ700DC is a compact dash cam that's intended for permanent installation and has to be hardwired into your vehicle, while BlackVue can also be hardwired (BlackVue hardwiring kit included) or installed via cigarette lighter adapter.
If you search for reviews and user experiences, Pioneer doesn't have that much - which we don't find as a good sign. To be fair, Pioneer is still a great brand for car electronics - but probably needs more experience and development for dash cameras.
On the other hand, BlackVue has been an award-winning choice for all the models they cater. User experiences are relatively easy to find, and impressively, most of them give BlackVue great recommendations in all aspects.