FineVu GX300 vs. 70mai Pro Plus Dashcam
Which is More Equipped with Extra Essentials?
Aside from ensuring that it meets your driving needs, a practical way to buy a dashcam is to go for a brand that gives you more than you pay for. For example, the 70mai Pro Plus and the FineVu GX300 are 2k dashcams with features and freebies that not everyone in their price range can provide. Let's see who can give you the most to bring into your garage.
Review: 70mai Pro Plus Dash Cam

The first dash cam we'll dive into is the upgraded version of the 70mai Pro - the 70mai Pro Plus+. Because of its 5MP IMX355 image sensor, this dual channel dash cam provides satisfying video coverage in its 140° wide-angle lens, capturing footage at 30fps with a resolution of 2592x1994 pixels for its front and 1080p for its rear camera.
Does this 70mai have Night Vision?

Despite its compact 87.5 x 53 x 18 mm dimensions, the 70mai Pro Plus is equipped with great features in terms of capturing video. Through its Wide Dynamic Range function, the 70mai Pro Plus+ assures great image quality in low-light conditions - balancing out the starkness for a vivid video sequence. It's also engineered with DeFog technology that enhances video quality in fog or snow, plus a Super Night Vision works well in the dark.
Does the Pro Plus have Parking Mode and GPS?

For security, it is also equipped with 24-hour parking surveillance and a shock sensor that detects probable unforeseen circumstances such as acceleration, braking, and shock - which will require the installation of a hardwire kit.
Ensuring the driver's safety, the Advanced Driver Assistance System of the 70mai Pro Plus includes a lane departure and collision warning system, which alerts you if you're going out of your lane, and getting too close to the car in front. Moreover, the 70mai is also built with a GPS that records your location and travel time for more accurate evidence.
Is the 70mai Pro Plus footage accessible through an app?

If you wish to view the videos, you can easily access and view them on the 70mai Pro Plus+ 2" LCD display screen. Making the user experience more convenient, it can also be played back, downloaded, and shared through the 70mai's mobile app.
Review: FineVu GX300 2K Dual Dash Cam

FineVu GX300 Image Quality and Recording Capabilities

The FineVu GX300 is a two-channel dash cam system with 2K QHD front and Full HD rearview resolution that covers a total of 250° of your vehicle. These features are compressed in its compact design - measuring 78 x 64 x 50 mm for the front and 53 x 30 x 41 mm for the rear.
The FineVu GX300 front-facing camera's 5.14MP Sony STARVIS IMX335 image sensor captures great 2K QHD video captures of the road ahead at a 122° wide-angle. As a result, you get the best coverage while minimizing distortion. A 2MP SOI F37 image sensor is used in the rear cam to capture 1080p Full HD dash cam footage of traffic behind at a 134° field of view.
Does the GX300 Have Night Vision?

The GX300 includes HDR and Auto Night Vision for optimal video quality. HDR is a feature that improves object visibility by combining two videos with different luminance settings. Behind the scenes, the high-performance Allwinner V536 DualCore processor ensures that all of these technologies run smoothly.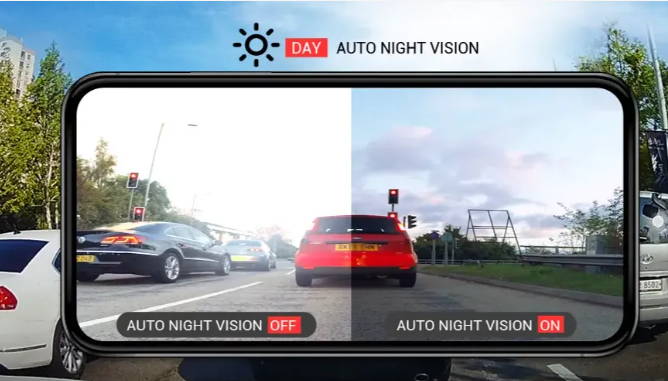 What is the Maximum Storage Capacity of the GX300?

When you purchase this, you will also get a Samsung Pro Endurance 32GB microSD card, which can record for up to 193 minutes in standard mode. The GX300 accepts memory card sizes up to 128 GB in size, and loop recording ensures that when the microSD card is full, the oldest files are overwritten first, so you won't lose any new, unwatched files.
You also have Smart Time Lapse, which is an intermittent recording mode in which the dashcam takes snapshots at regular intervals and replays them at normal speed. If an event is detected, the dash cam resumes standard recording at 30FPS, allowing you to capture up to 1,134 minutes without overwriting - which can be enabled in both driving and parking modes.
What are the other Safety Features of the FineVu GX300?


With the installation of a FineVu hardwiring kit (or a dash cam battery pack such as the BlackboxMyCar PowerCell 8 or Cellink NEO), the GX300 can also work in three modes: motion with collision detection, standard Time-Lapse (15FPS), and Smart Time Lapse for an added layer of security.It also has a suite of safety features, including an Advanced Driver Assitance System (ADAS), Speed Camera Alert, and Driving Rest Guide.
Is the GX300 Heat Resistant?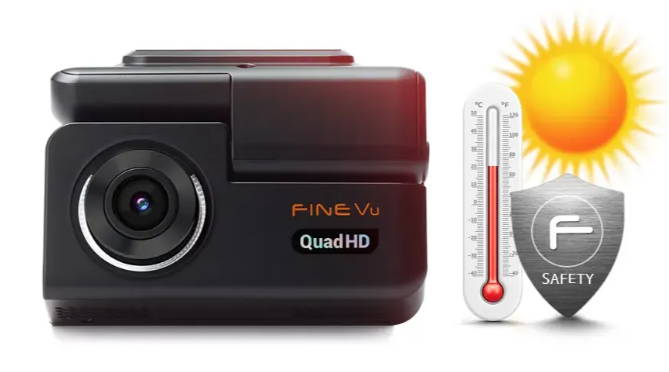 The FineVu GX300 is intended for use in both hot and cold conditions. The GX300 and the video files saved on the micro SD card are both protected by the built-in high temperature protection feature. The GX300 will turn off automatically to prevent overheating if the ambient air temperature exceeds the maximum operating temperature.
How Can You Watch Footage of the GX300?

The GX300 does not have an LCD screen. However, playback is even more convenient. Because the GX300 has built-in WiFi connectivity, you can connect it to your smartphone - iOS and Android - and use the free FineVu mobile app to change camera settings and stream/download saved footage. You can also play your videos on your computer by downloading the free FineVu PC Player compatible with both Mac and Windows.
Product Comparison: 70mai Pro Plus+ vs. FineVu GX300

2.5K QHD @30FPS | 1080p Full HD @30FPS
2K QHD @30FPS | 1080p Full HD @30FPS
Sony STARVIS IMX335 Sensor
Sony STARVIS IMX335 Sensor
2.5K HD, front and rear cameras, Sony STARVIS, Night Vision, 70mai mobile app, 2 Inch IPS Screen, Built-in GPS with ADAS, Wi-Fi, Parking Mode,
2K QHD, front and rear cameras, Sony STARVIS, Night Vision, Smart Time Lapse Feature, Voice Controls, Heat Resistance, Free Samsung 32 GB sd card, FineVu app, Parking Mode, Speed Camera Alerts, Driving Rest Guide, Free Hardwiring and Cigarette Cable, Wi-Fi, GPS
1-Year Manufacturer Warranty
3-Year Manufacturer Warranty
Final Verdict: Which Dash Cam has More, Extra Essentials?

With both dash cams equipped with 5MP Sony STARVIS sensors covering dual channels, the 70mai Pro Plus and the FineVu GX300 deliver high quality video footage of the road ahead and the traffic behind, able to record clear and balanced video details of road signs and license plates.
However, in terms of features that will make the driver and passengers more secure, FineVu's entry reigns. This is because all of the 70mai Pro Plus features like ADAS, Loop Recording, Time Lapse, the mobile app Live View and various Parking Modes are also built in the GX300. The only difference is that the GX300 has more - with the existence of a Smart Time Lapse feature and a faster Allwinner V536 DualCore processor powered performance.
Also, the FineVu GX300 includes a 32 GB Samsung micro SD and a FineVu Hardwiring Kit in every purchase. With 70mai Pro Plus, it will cost you more as you have to buy them separately. Reliability wise, GX300 is more trusted by reviewers, with the trust and confidence reinforced by FineVu's 3-year manufacturer warranty that only the Korean brand offers.
So for this review, the FineVu GX300 is confirmed to be the entry that provides extra essentials. If you want to get this feature-packed 2K dash cam, click on the link to avail yours with our best price guarantee deals!