VIOFO A229 vs. Garmin 67w

Which One Has Better Clarity, Coverage or Control?
While VIOFO dash cams have already made a significant mark in producing high-quality evidence through its feature-packed product lineup, there is still a long list of car surveillance brands that are worth considering, especially in terms of brand reputation.
One of them is Garmin. Yes, it's more popular for its smartwatches and wearable devices, but they have already begun manufacturing dash cameras as well.
Now, let's see if one of VIOFO's well-loved models, the all-new VIOFO A229, is worthy compared to another well-established Garmin entry, the Garmin 67w.
A229 Image Resolution and Video Quality

Upgrading the VIOFO A129 Pro with the 2-inch display, the VIOFO A229 boasts a 4k Quad HD dual dash cam with 2K@30fps in its front and another 2k@30fps in its rear.
Both are equipped with a 5MP IMX3335 Sony STARVIS and an F1.6 aperture 7-element glass lens ensuring a higher clarity view than the conventional 1080p, even in low-light situations. For those looking for a single-channel version, VIOFO also offers a front-only edition of the A229.
How does the VIOFO A229 differ from the A129?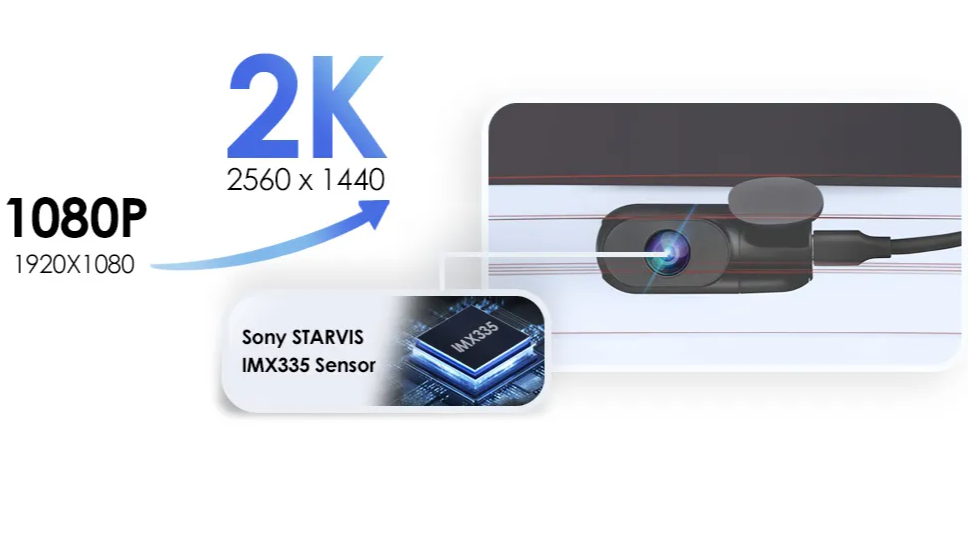 From the A129's 2" LCD display, the VIOFO A229 now has a 2.4" display for a more direct and convenient live view for the drivers. On the other hand, its minimalist black design is blended with the car interiors to prevent the drivers from being distracted by the device. One more thing that we love about this device is its Circular Polarizing Lens (CPL) that you can get separately if you want to minimize the glares and reflections off the glass.
But perhaps, the most significant upgrade is the rear camera. The VIOFO A229 Duo comes with VIOFO's first 2K QHD rear camera.
Does the VIOFO A229 have Wi-Fi Connectivity?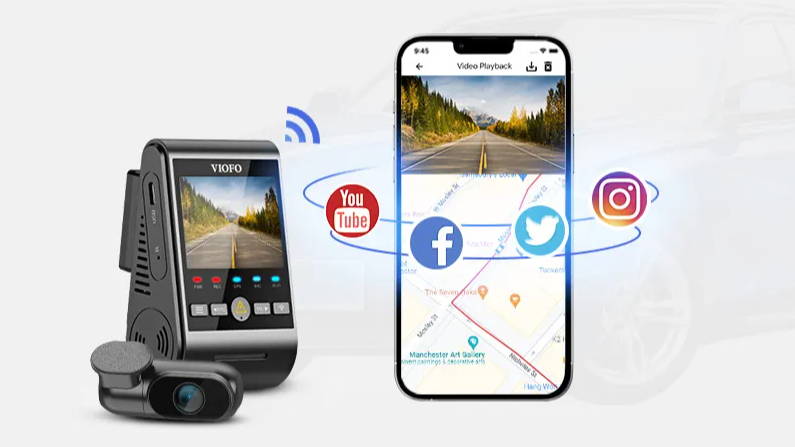 The VIOFO A229 now has a built-in high-speed 5GHz WiFi that lets users configure the settings, live view, playback and download videos, and even share footage through the VIOFO App. There's also a new Bluetooth Remote Control button that comes optional on every purchase.
Is the VIOFO A229 easier to install?

Users can now say goodbye to the thick cables too, as the VIOFO A229 now comes with slim coaxial cables and mini connectors that increase electromagnetic interference reduction and hassle-free wire-hiding and installations. VIOFO also managed to include transparent Static Windshield Stickers in the package instead of having suction mounts. This sheet also acts as a barrier between the sticky tape and your windshield glass to avoid residual marks when you need to uninstall the dashcam - perfect for car rental, car share and fleet.
What are the VIOFO A229's safety features?

For additional security, the VIOFO A229 is also built with a GPS logger that accurately tracks your speed, location, time, and route data in the footage file. It also has a G-sensor and 24-hour parking mode that automatically detects and saves the footage when harsh motion or collision is detected. Its Time Lapse feature and Low Bitrate Mode also make the evidence-gathering seamless.
Does the VIOFO A229 support audio recording?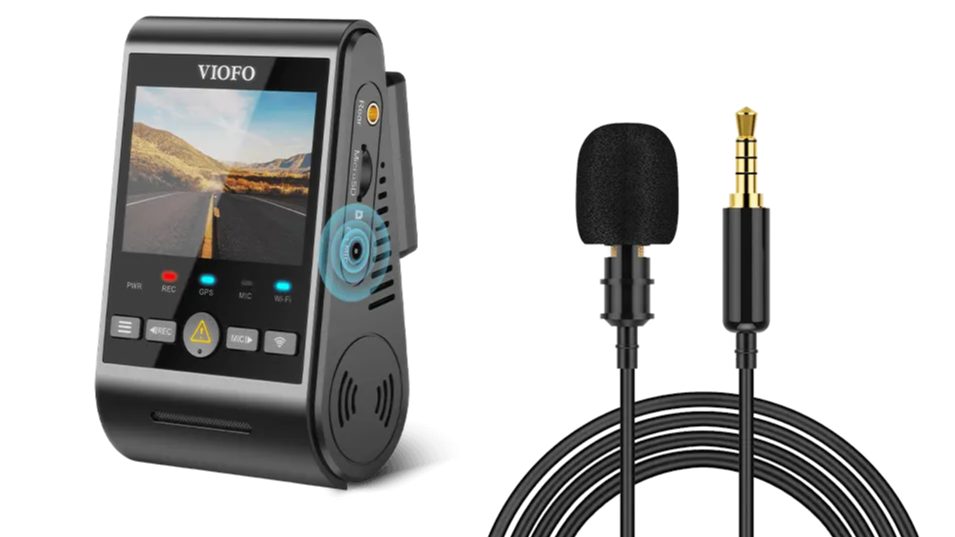 If audio matters to you, the VIOFO A229 is also able to support an external microphone to optimally record conversations in police stops, incidents, and road misconduct. It is also equipped with Voice Notifications to keep you updated on the device and surrounding updates even without touching or holding the device.
If you have an active lifestyle and enjoy outdoor recreation, sports and fitness, Garmin might be a familiar name for tracking your progress. As the American-Swiss company expands its product line, Garmin also began designing GPS navigation tech solutions to the marine, aviation, and automotive markets - including dash cams.
One of its best-selling car surveillance devices is the Garmin 67w. As the tech giant's expertise is to capture activities and navigation in its most efficient manner, Garmin made sure that the 67w dash camera features an extra-wide 180° field of view that records important details in 1440p and Garmin Clarity HDR optic videos.  
Does this Garmin dash cam have a rear cam?

For this model, Garmin only offers a single-channel system.
The Garmin dash cam is designed to be pocket-sized, with the entire device measuring only 5.62 cm x 4.05 cm x 2.19 cm. The dimensions make it easier to mount, with two power cable options - upward and downward routing - for a more discreet installation. However, the 2-inch screen size that is capable of showing a Live View could be a challenge for some drivers with poor vision.
What are Garmin 67w's safety features?

Apart from the built-in GPS, Garmin 67w also has a Parking Guard that alerts the driver and automatically saves the video in the event of an accident, even while the car is parked for additional safety. When you feel sleepy while driving, the Garmin 67w's alerts will wake you up with its "Go" alerts, Lane Departure Warnings, and Forward Collision Warnings.
It is also equipped with a Voice Control where you can command your camera to save videos, begin and stop recording audio, take snapshots and more. This helps the driver operate the dashcam while keeping the hands and focus behind the wheel.
Does the Garmin 67w also have a mobile app?

Similar to VIOFO, Garmin also has an app that enables users to automatically store videos in a cloud vault. Through WiFi connectivity, you can instantly share videos by simply sending a link and passcode.
It can also condense long driving hours into minutes of highlights through its special Travelapse feature. These videos can be accessed in the online vault for up to 24 hours from the uploading time. If you want to extend the accessibility plan, Garmin also offers paid subscriptions.
Verdict: VIOFO A229 vs. Garmin 67w
Garmin has a strong brand reputation in GPS navigation aid and wearable technology. Its series of dashcams are decent, especially in terms of giving the driver convenience with its Voice Control features, camera-assisted warnings, and the cloud-based Garmin Drive.
The deal breaker here is the quality of the captured videos. The Garmin 67w only has a front cam with 1440p HD resolution, which is quite far from the VIOFO A229's 2k + 2k at 30 fps for its dual-channel camera. Since VIOFO has both front and rear cameras, more events will be captured in a crystal clear view which produces higher-quality evidence. Accessing the files is even more convenient with its larger screen, dual-band Wi-Fi and user-friendly VIOFO App.
Garmin provides the drivers with control features for convenience, but the VIOFO A229's image and video quality, dual-channel system, and safety functions are enough to help you have a clearer vision of which dash cam to choose.
Clarity, coverage, and control? The VIOFO A229 has them all.
So if you think it's time for an upgrade, we are confident to say that the VIOFO A229 is worth switching for. It offers extra plus features not only on the A129 Plus, but in the entire VIOFO dash cam series.