Let's start with the basics to get you informed
Parking mode recording is a feature of a dash cam that keeps your dash cam recording footage even when the vehicle is off. Typically found only in premium dash cams, parking mode provides around-the-clock protection and surveillance for the vehicle. Remember that an accident can happen at any time, and it's always worse when the driver is away from the vehicle without any witnesses. The ability to capture footage while parked, to prevent hit-and-runs, door dings and vandalism, can prove to be very useful.
Parking mode recording is made possible either by hardwiring the dash cam to the vehicle's fusebox or through a battery pack. Power is drawn from one of these sources to the dash cam to enable parking mode. Premium dash cams are smart enough to not record when nothing is happening, and only trigger recording when motion or impact are detected. For example, a dash cam will only start recording when someone walks by or when something hits the vehicle. This is great as power and memory storage are not wasted, and only the crucial files are recorded.
Some dash cam manufacturers include small internal batteries that do not supply enough power for extended parking recording and are generally unsafe to use in hotter climates. The best parking mode dash cams will also feature memory partitioning to protect hit-and-run files. Our favourite parking mode dash cams come from BlackVue and Thinkware.
---
1) Parking Mode by Accelerometer

The most basic form of parking mode will only record footage after the accelerometer inside the camera has been triggered. Once the accelerometer, or "G-sensor", detects that there has been a movement, the dash cam will turn on and start recording.
This would mean that although the dash cam will capture everything that happens after an impact, it won't be able to capture the events that lead up to the incident.
When a motion or impact file is detected, a dash cam with buffered parking mode will be able to save the previous period of time (5-10 seconds depending on the model) that led up to the recording.
Another form of parking mode that separates the best from the rest is what's called buffered parking mode. When a motion or impact file is detected, a dash cam with buffered parking mode will be able to save the previous period of time (5-10 seconds depending on the model) that led up to the recording. For example, the license plate of another vehicle's hit-and-run may not be captured if only the moment of impact is captured. If someone vandalizes the vehicle, footage of the person walking up to the vehicle will be captured and can show a much clearer description of the person.
Not the Same as Parking Mode By Motion Detection

Contrary to popular belief, while buffered parking mode is quite similar as parking mode by motion detection, they are not the same. Buffered parking mode has the ability to record up to 5-10 seconds leading up to the recording, crucial in giving you much more information.
If you're looking for a great dash cam with buffered parking mode, then try a Thinkware dash cam. They offer the best parking mode features, offering memory partitioning which creates separate video folders for the different types of recording. This then minimizes any overwriting issues, as only the same type of files (recording) can overwrite themselves. For example, if an impact is detected - such as when the vehicle is hit and the built-in dash cam G-sensor is triggered - the video will be marked as an event and only other event files can overwrite this file.
This is highly useful if the vehicle is hit while parked, and the driver does not notice until several days after (perhaps due to a small damage) - the footage will still be able to be retrieved under the impact folder.
---
Setting Up Parking Mode Capabilities

We recommend using an SD card that is at least 64GB if you are looking to use parking mode. With anything smaller, you run into the risk of having footage overwritten before you've had the chance to review it. If you are seeing a lot of false motion triggers, make sure you turn down the motion detection sensitivity in your settings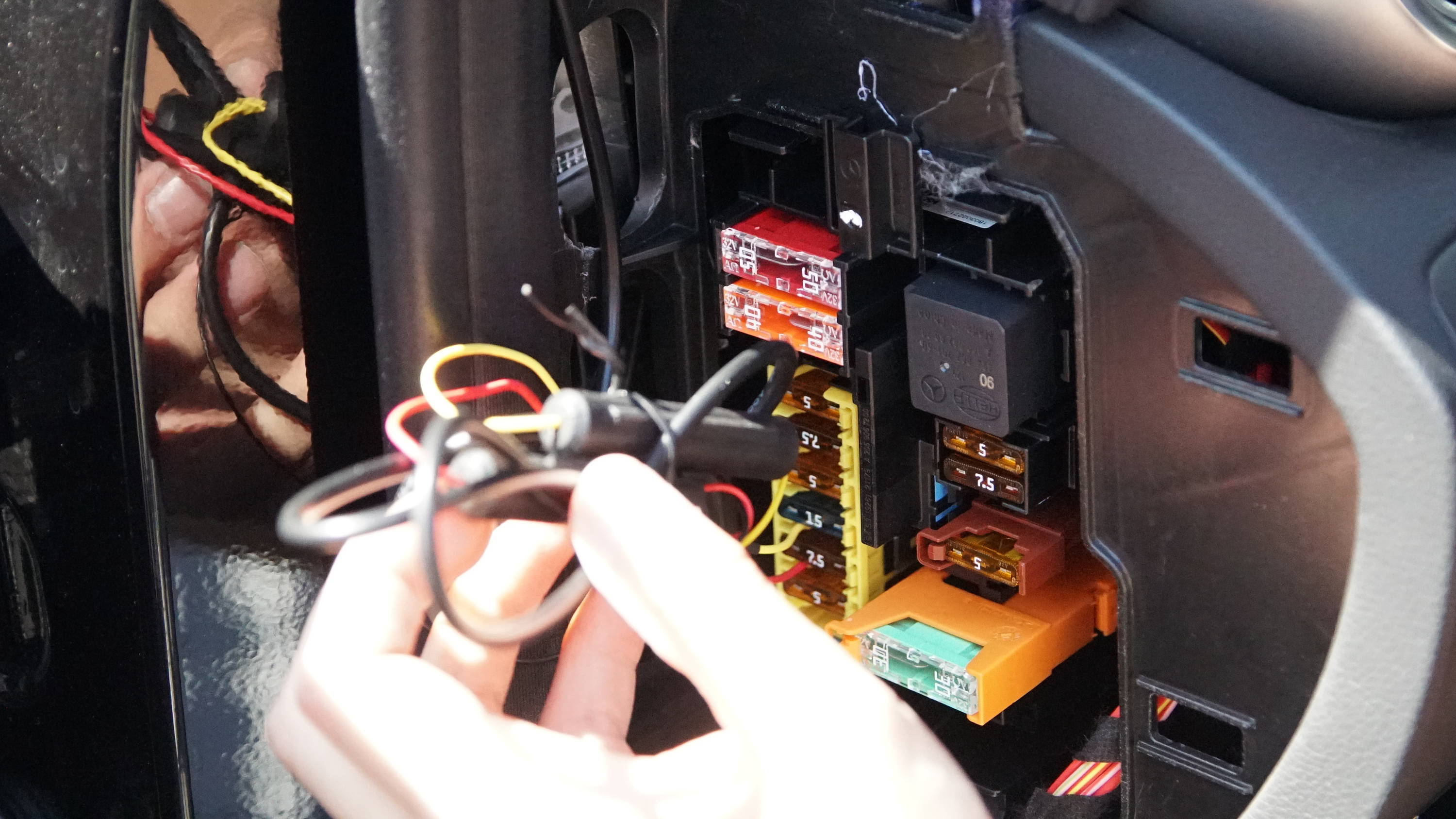 To access your dash cam's parking mode capabilities, you must first hardwire your camera to your vehicle. For products without a built-in low-voltage cutoff, such as the BlackVue DR900S-2CH, you will need install a BlackVue Power Magic Pro to prevent your dash cam from draining your vehicle's battery (also known as battery discharge). For dash cams that do come with a built-in low-voltage cutoff, such as the Thinkware F800 Pro, you will not need to have this.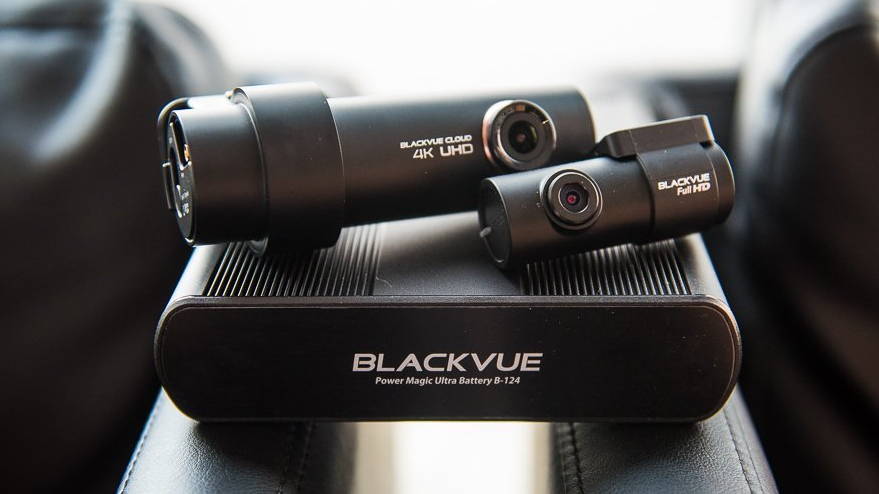 External Battery Pack Method

---
Different Configurations for Parking Mode

Parking mode can be separated into different types, such as motion detection which activates recording when the video sensor detects movement and impact detection which activates recording when the built-in G-sensor detects shock. With the release of the flagship Thinkware F800 Pro, there are now two further types of configurations in parking-mode recording for this device:
Timelapse is ideal for those who will park their car in a busy area and know that motion detection will almost always be triggered. Your memory card will fill up and your footage will be overwritten in a short period of time. To combat this, time-lapse mode takes 2 frames per second, as opposed to 15 frames per second in motion detection mode.
This reduces the amount of footage that needs to be recorded in the same period of time. As an example, 720MB for 1 hour of front/rear video in timelapse mode equates to about ~5GB of storage in regular front/rear motion detection parking mode. Motion and impact detection are not enabled in this mode.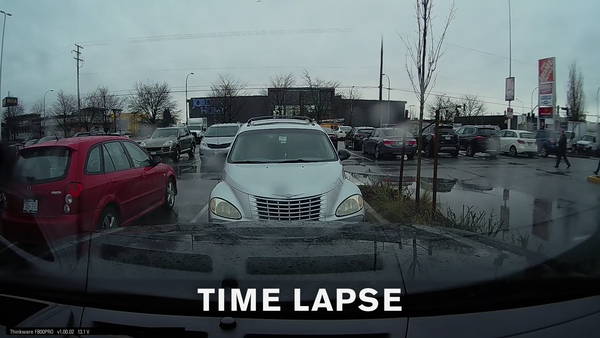 Instead of being in an always-on passive recording state, this parking mode option reduces power consumption by ⅓, providing 3x longer recording time as opposed to normal parking mode.
The Thinkware F800 Pro remains in a "sleep" state and once the G-sensor detects an impact, the dash cam wakes up to record for the next 20 seconds. Motion detection is not enabled in this mode.
Parking Mode is Important
Let's be honest - a lot of times door dings on our new car or even acts of vandalism are the absolute worst to deal with. Without any witnesses, these claims are not only hard to resolve with insurance companies but could cost thousands of dollars in damages.
A dash cam in your vehicle will help you in whatever situation you're in. So what are you waiting for? Explore our collection of dash cams today. If you have any further questions, comments or suggestions, then don't hesitate to reach out to our product experts today!
Explore Our eLearning Guides

---
Not to fret, our in-house product experts are here to help. We have spent years curating helpful content and video guides, helping customers with their dash cams, but we understand that we can always do better. Contact us using the form below and we'll get back to you as soon as we can. We love what we do, because we're here to help you make the most informed purchasing decision.