Nextbase 622GW vs. Vantrue N4 Review
Finding the Right 4K Dash Cam For You
Go big or go home.
When choosing dash cams, getting a 4K resolution model means you're going big. With the full HD and 2K dash cams that provide drivers with typical features, having a 4K dash cam lets you beat the basics, giving you better user convenience and security.
Let's take a look at two of the best-selling 4K dash cams we know, the Vantrue N4 and the Nextbase 622GW.
Vantrue N4 3-Channel Dash Cam Image Quality and Recording Capabilities

The Vantrue N4 has a 155° front camera, a 165° interior camera, and a 160° rear camera that records front, inside cabin, and the road back simultaneously at 1440P+1080P+1080P at 30fps, providing you with all-around security while driving.
This three-channel dash cam also has dual recording mode records at 2560x1440P in the front and 1920x1080P at 30fps inside the cabin or in the rear.
When used alone, or the two channel system, this can capture 4K, allowing for the clear capture of license plates and traffic signages. Videos can be viewed on its 2.45-inch IPS LCD screen.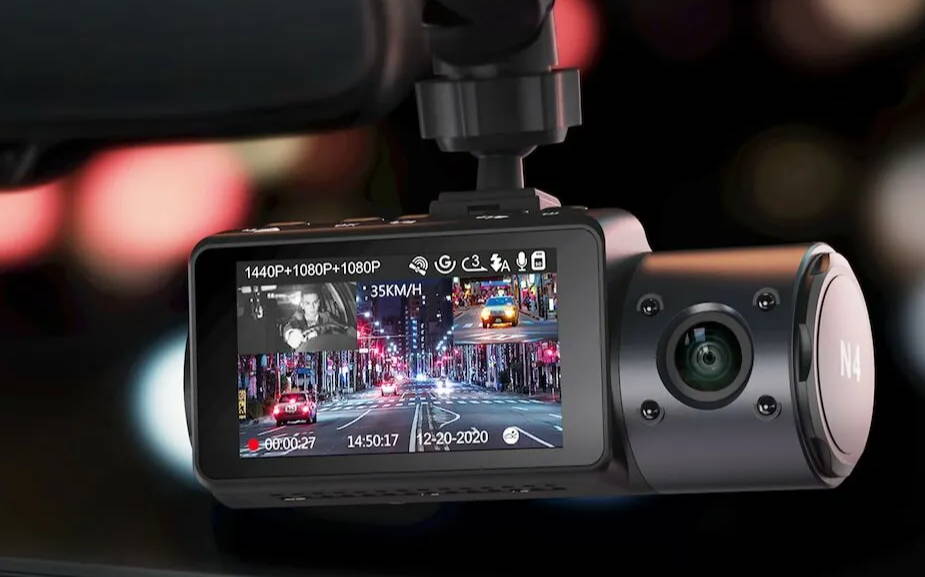 Does the N4 have Night Vision?

Through the Sony STARVIS CMOS sensor, a large F1.4 aperture 6-glass lens monitoring the road in front, and a smaller F1.8 aperture 6-glass lens observing the back, the Vantrue N4's Super Night Vision can naturally increase exposure in dark environments to capture clear video footage.
The Vantrue N4's 4 IR LED lights for the interior camera also help to identify the driver and passengers even in complete darkness, making it ideal for rideshare drivers such as Uber, Lyft, and Taxi.
Is the Vantrue N4 equipped with Parking Mode?

To utilize the 24-hour parking mode, the 3-channel dash cam must always be connected to a hardwire kit or an external battery. With this feature, the N4 will be in standby mode until motion is detected, at which point it will wake up and prepare to record. If an impact is detected while the car dash cam is turned off, it will automatically turn on to capture the incident.
What are the safety and convenience features of the Vantrue N4?

The N4 also has a variable sensitivity G-sensor, an Emergency Lock feature for media saving, and Loop Recording and auto LCD off to prevent distraction while driving. It doesn't have a built-in GPS, but you can get one separately. For connectivity, it also lacks Wi-Fi and Bluetooth.
Is the N4 Heat Resistant?

The Vantrue N4 dash cam is powered by supercapacitors rather than lithium batteries and is designed to withstand extreme temperatures ranging from 14°F to 158°F.
Review: Nextbase 622GW Dash Cam

While the Vantrue N4 ensures full car security with its three-channel system, the Nextbase 622GW boasts its state-of-the-art features that provides holistic security not only to the car, but for the passengers as well.
Nextbase 622GW Image and Video Quality

The 622GW includes a new Ambarella H22 quad-core chipset that enables users to capture pin-sharp 4K footage at 30fps from a 140-degree field of view.
If you don't require the highest quality, 1440 p at 60fps or 1080p at 120fps are also options. In addition, they have installed a removable polarizing filter, which allows drivers to rotate a bezel in front of the lens to produce beautiful, glare-free footage.
Like the 3-channel Vantrue N4, this Nextbase also has an option to add an in-cabin and rear dash cam module that records at 1080p/30fps, which is sold separately.
The 622GW's back panel includes a 3-inch HD IPS touchscreen, slightly bigger than the N4. It has a few buttons that don't take up too much space on the screen. While looking at the display is the most convenient way to see a live view of the camera, you can also do so using the app on your phone.
What are the Convenience Features of this 4K video dash cam?

The 622GW has Alexa connectivity. It has a voice control feature that you can configure on your phone. The two built-in microphones in the car that pick up on speech.
If the driver fails to respond, the 622GW knows exactly what to do. The dash cam will automatically notify emergency services near your location. However, it does not stop there. It also gives them access to any medical information you choose to share with the app.
While the Vantrue N4 is heat resistant, Nextbase made the 622GW advanced in an extra level. Because fog and other harsh weather conditions are major causes of traffic accidents, Nextbase created an extreme weather mode. Whether you are involved in or witness an accident, this feature can help you identify vehicles in your footage. It ensures that registration plate numbers can still be detected.
This is yet another fresh Nextbase feature. It significantly reduces camera vibrations caused by your car, resulting in a super-smooth and clear image.
Adding to stability, the Click&Go magnetic Pro GPS mount makes it very easy to fix in place and remove, and the rear touchscreen is clear and responsive, allowing for a great view out of the windscreen quickly and easily.
This parking mode is also available in the 522GW. When this feature is enabled, it begins recording immediately after detecting impact. As a result, if someone hits or scratches your car in the parking lot, the dash cam will record it.
When you record video in 1080p at 120 frames per second, the dash cam enters Super Slow Motion mode. This feature can be critical in determining what happened during an accident. In most cases, you can rely on it to reveal important information from each clip.
Another main factor the 622GW is one of the best dash cams on the market is its what3words connectivity. Using only its own GPS module, this model can always pinpoint your exact location, limiting your location to a three-meter squared area.
Moreover, the 622GW also has access to the MyNextbase Suite which includes MyNextbase Connect, the mobile app and MyNextbase Player, the desktop app.
Product Comparison: Vantrue N4 vs. Nextbase 622GW

4K x 2160P @ 30fps (F)
1440P + 1080P +1080P @30fps (F+C+R)
4K Footage UHD @ 30 FPS; 2K QHD @ 60FPS; Full HD 1080p @120FPS
-10°C to 70°C (14°F to 158°F)
-20° to 45°C (from -4° to 113°F)
Best Dash Cam for 4K Footage: Vantrue N4 vs. Nextbase 622GW

The Vantrue N4 is a good dash cam for those who want to keep an eye on almost all the corners of their cars. This is also useful for Uber, Lyft, and other ride sharing services. Apart from its wide coverage, the fact that it can also capture 4k is also useful in case you want a more cinematic and detailed view of the road in front of you.
The features of the Vantrue N4 are ideal, but quite basic if compared to the Nextbase 622GW.
The 622GW, on the other hand, seems too good to be true for all its features. Imagine having a dash cam that captures 4K, has a built-in Alexa, extreme weather resistance, emergency SOS, intelligent parking mode, image stabilization and a built-in polarizing lens - and most importantly, compatible for additional rear window, rear and in-cabin cameras as well.
It might sound a lot, but these features are meticulously crafted by Nextbase to provide you with the camera that stays on top of the game not just for security, but also for your convenience and safety.
The Nextbase 622GW 4K Dash Cam is available at BlackboxMyCar. Click on the button below to get this amazing, jam-packed 4K dash cam now.