Vantrue M3 Mirror Cam In-Depth Review
The New 2K QHD Triple-Channel Mirror Dash Cam from Vantrue
The Vantrue Mirror Cam 3 is the first-ever mirror camera carried by BlackboxMyCar. Designed as an upgraded version of the Vantrue Mirror Cam 2, the M3 mirror dashcam boasts a front main camera, in-cabin, and rear camera for your vehicle's all-around security.
Recording Quality on Sample Footage

To give you a glimpse of the Vantrue Mirror Cam 3's front and rear video coverage capabilities, check out the sample footage we have for you.
Front, Rear, and Interior Cameras

2K QHD + Full HD Image Quality

Infrared Interior Camera

Built-in GPS and Beidou3

Built-in 12" LCD Touchscreen

Parking mode
✓ Three-channel dash camera (2K + FHD + FHD)
✓ Rear camera can be mounted in flexible options, can serve as a backup camera also
✓ 360-degree rotatable infrared interior camera
✓ Easy switching and simultaneous live view of front-facing camera, in-cabin, and rear
✓ Wide 12" anti-glare touchscreen and display
✓ Ultra-precise navigation system with BeiDou-3
✓ May also serve as a rearview mirror when the screen is turned off
✓ Notable safety and security features like GPS, motion detection, collision detection
❌ No Wi-Fi and Voice Notifications
❌ Too many thick wires
❌ May need professional technical support for installation
❌ Fit on the rearview mirror may vary depending on the vehicle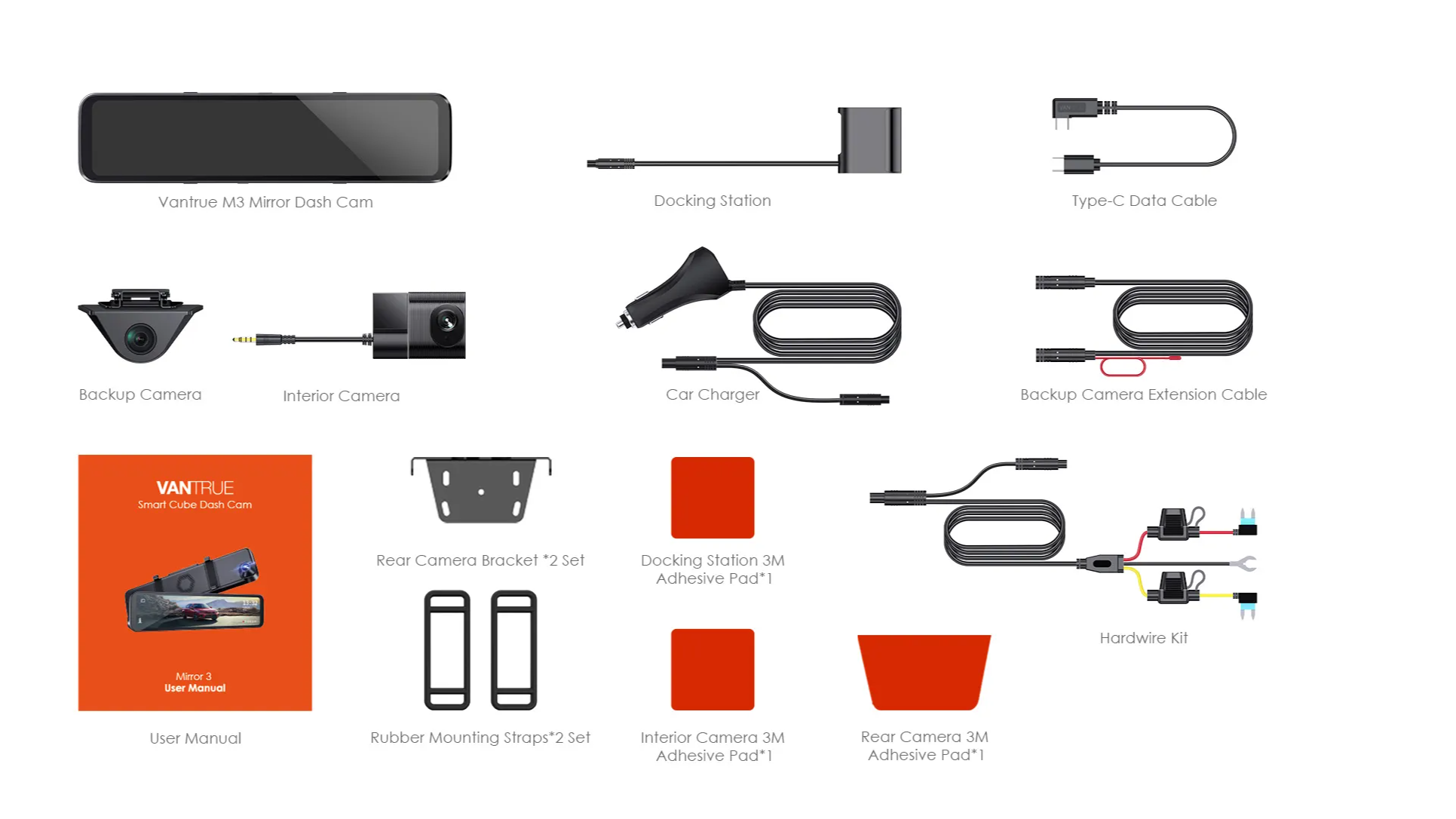 If you're one of the first batch of customers who pre-ordered the Vantrue Mirror Cam 3 on our website, here's what you'll receive on the package.
12" IPS Touchscreen Mirror Dash Front Camera

Infrared In-Cabin Camera

Rear Camera

Interior and Rear Camera's Brackets

Docking Station

Type-C Data Cable

Cable Clamps

Car Charger

Hardware Kit

Sticky Pads

Spudger

Screwdriver

Glass cloth

User Manual
All three cameras in the Vantrue Mirror Cam 3 are equipped with Sony STARVIS and Silicon Optronics image sensors to deliver reliable videos that capture details of events inside and around your vehicle, with special night vision in low-light.
The Vantrue Mirror Cam 3 uses a 5MP Sony STARVIS IMX335 image sensor to clearly capture the view of the road ahead in 2K QHD at 30FPS, day or night. In the settings, you can also change the frame rate to 28 frames per second. It is also equipped with a 2MP Sony STARVIS IMX307 image sensor that captures traffic in the 1080p rear-facing camera in Full HD. The in-cabin camera has a 2MP Silicon Optronic JX F53S8 image sensor that can detect activity in the vehicle's interiors even in pitch-black conditions. To maximize footage capture, the M3 can also record audio.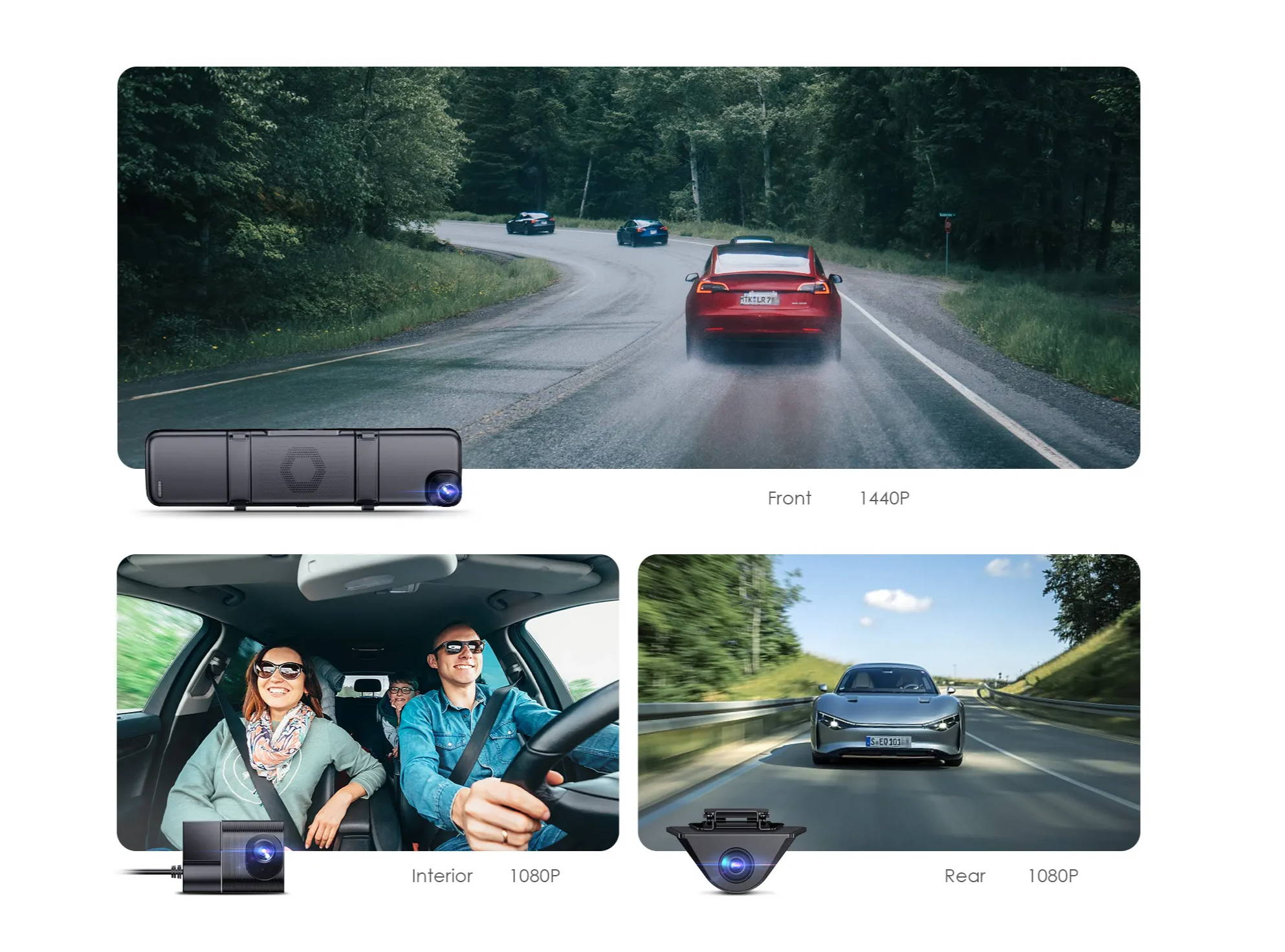 12" Touchscreen: Smooth Control Using Your Fingertips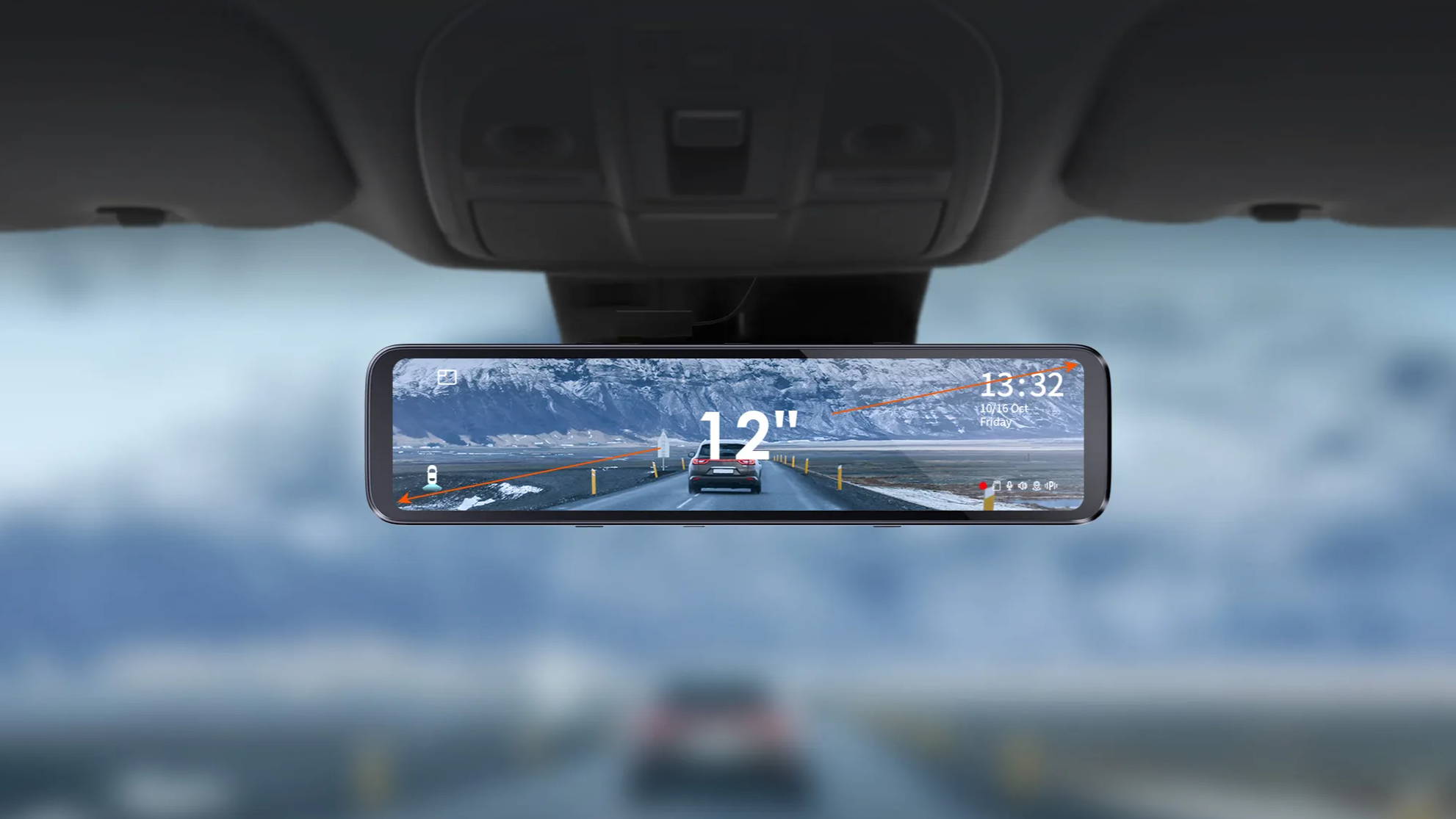 The 12" IPS anti glare touchscreen display attaches to your rear view mirror and serves as a mirror, dash cam, and touchscreen display all in one. Because of this design, the Vantrue Mirror Cam 3 is both discreet and user-friendly. The responsiveness is also improved with the upgraded Linux processor for the Vantrue Mirror Cam 3.
With the Vantrue Mirror Cam 3's smart screen split function, you can view dual lens displays at the same time, or just the front, in-car, or rear cameras. When the screen is turned off, it still functions like a rear - view mirror - just a little darker than a conventional mirror, most likely due to the anti-glare coating, which is designed to reduce reflections.
Multiple Rear Camera Mounting Options

The Vantrue Mirror Cam 3 comes with two rear camera brackets: you can mount it on your rear windshield inside your car to capture traffic behind you, or you can mount it above your license plate on the outside to double as a reverse camera.
The 1080p Full HD rear camera is IP67-rated for water and weather resistance. It also has a mirroring function that allows for a 180-degree flip of the image, making it easier to install on pickup trucks, RVs, and other vehicles with limited space.
The rear camera is a backup camera, so there's a purple wire to connect it to your reverse, but it's obviously much more difficult to install if you want to use it as a rear camera. It also does not rotate, so you must install it as is.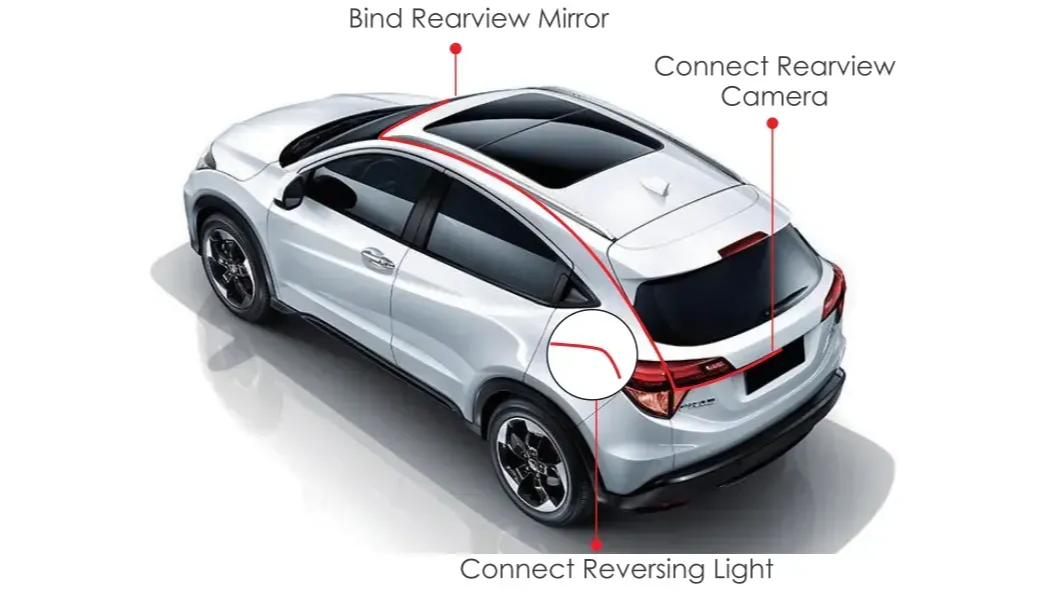 Quick Parking Assistance with the Reverse Aid Line

The Vantrue Mirror Cam 3's screen automatically switches to the reversing image with special reverse guidelines for more convenient parking.
The lines are adjustable to your vehicle's size and shape, ensuring zero blind spots when reversing. Just note that to use this feature, you must connect the rear camera to your vehicle's reverse light.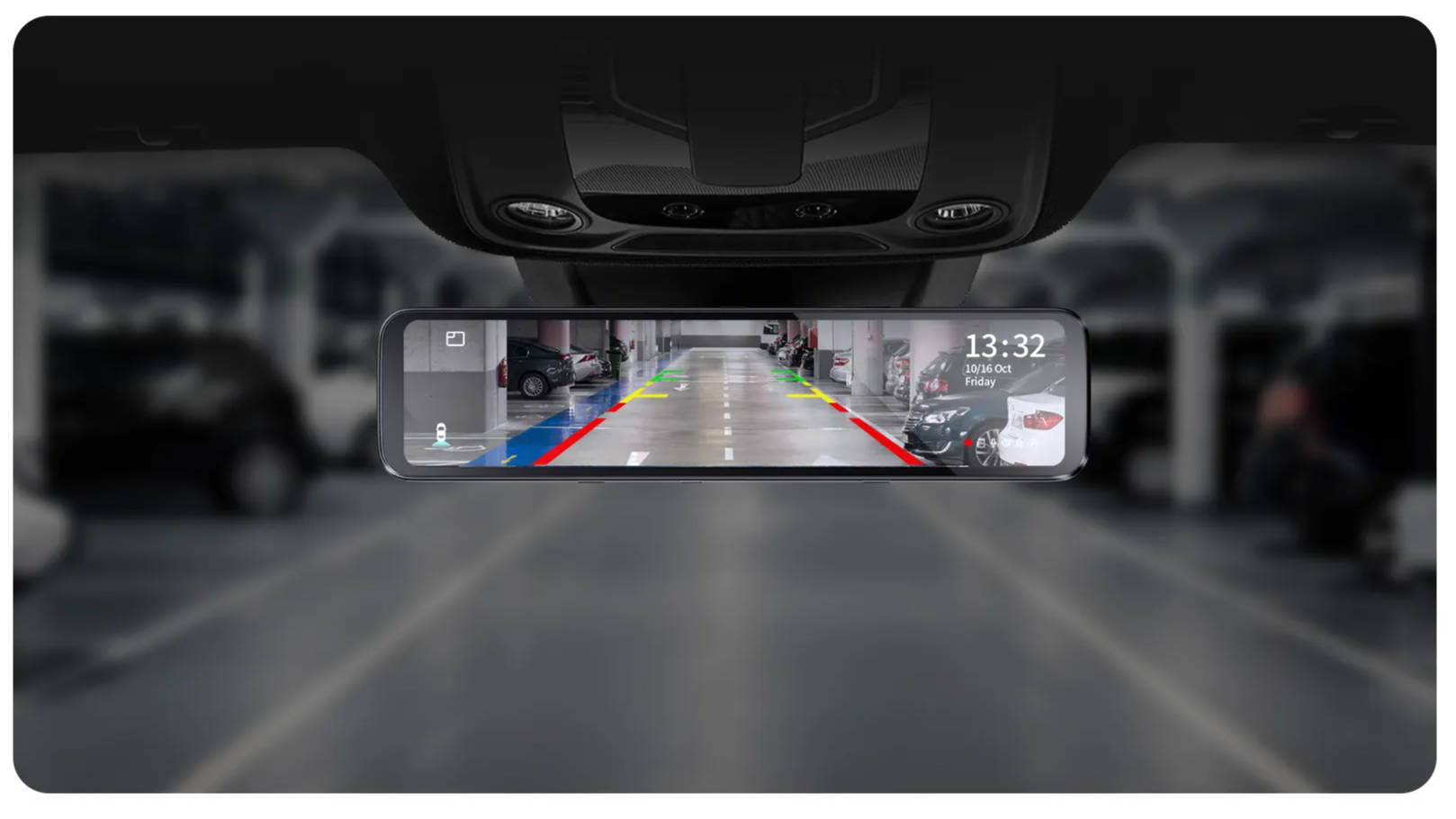 Complete In-Cabin Coverage: Rotatable Infrared Camera

The Vantrue Mirror Cam 3's in-cabin camera is 360-degree rotatable, giving you the most flexibility in capturing the required angles for your and your passengers' security, useful for taxi and ridesharing companies.
Moreover, the Mirror Cam 3's interior infrared camera records in-cabin activities in 1080p Full HD at 30FPS, even in pitch-black conditions, thanks to a 2MP SOI JX-F53SA image sensor and three infrared lights.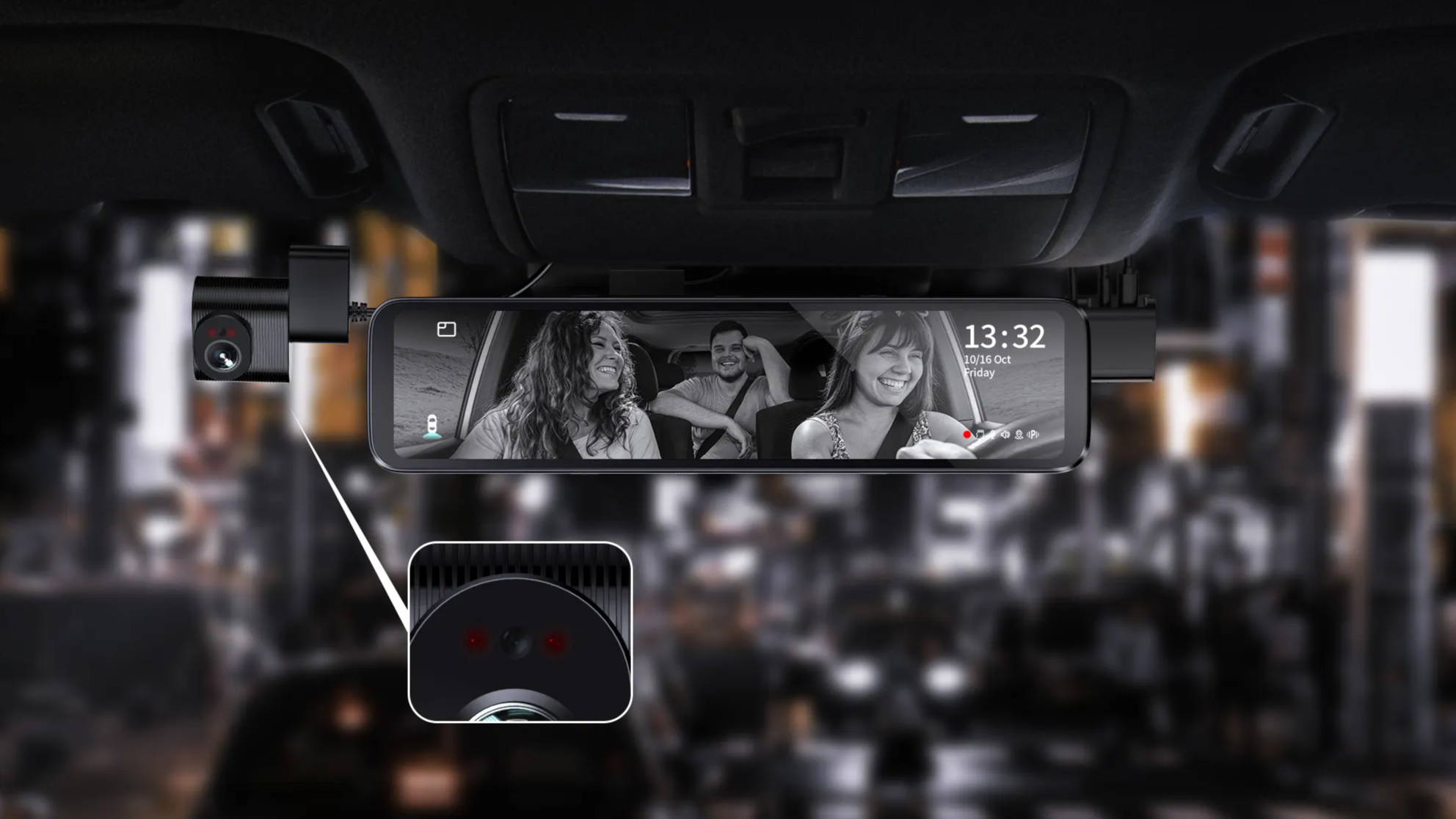 Ultra-Precise Tracking GPS

The Vantrue Mirror Cam 3 uses the China National Space Administration's (CNSA) BeiDou3 global navigation satellite system to provide precise navigational, positioning, and timing tracking, ensuring that your video footage is accurately stamped with time and speed data.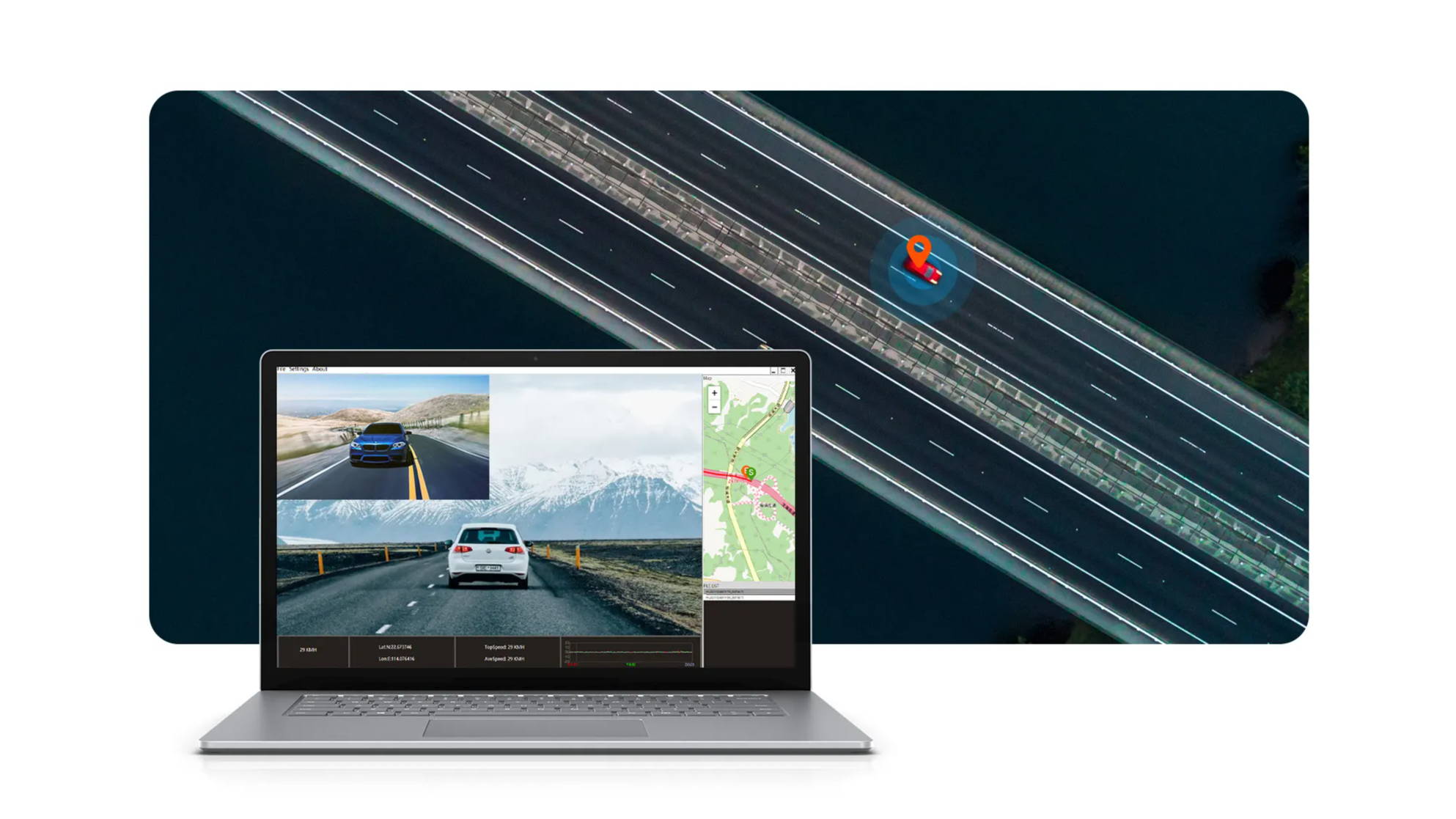 Multi-functional Security Options

Vantrue Mirror Cam 3's time-lapse recording mode offers continuous parking monitoring for up to 24 hours by reducing the recording frame rate to 1FPS.
When the G-sensor on the M3's camera detects an impact, the dash cam will automatically resume normal 30FPS recording to ensure that all important details are captured even when the car is unattended. Hardwire installation is required for this and time-lapse recording.
Since it is a mirror streaming camera and may require hardwiring installation to activate all features of the camera system, you may need a help of an installer to have the Mirror Cam 3 perfectly placed in your car.
You can get the Essential BlackboxMyCar Install Package and be assisted by our well-trained technical team on the installation here for a hassle-free Vantrue experience and peace of mind.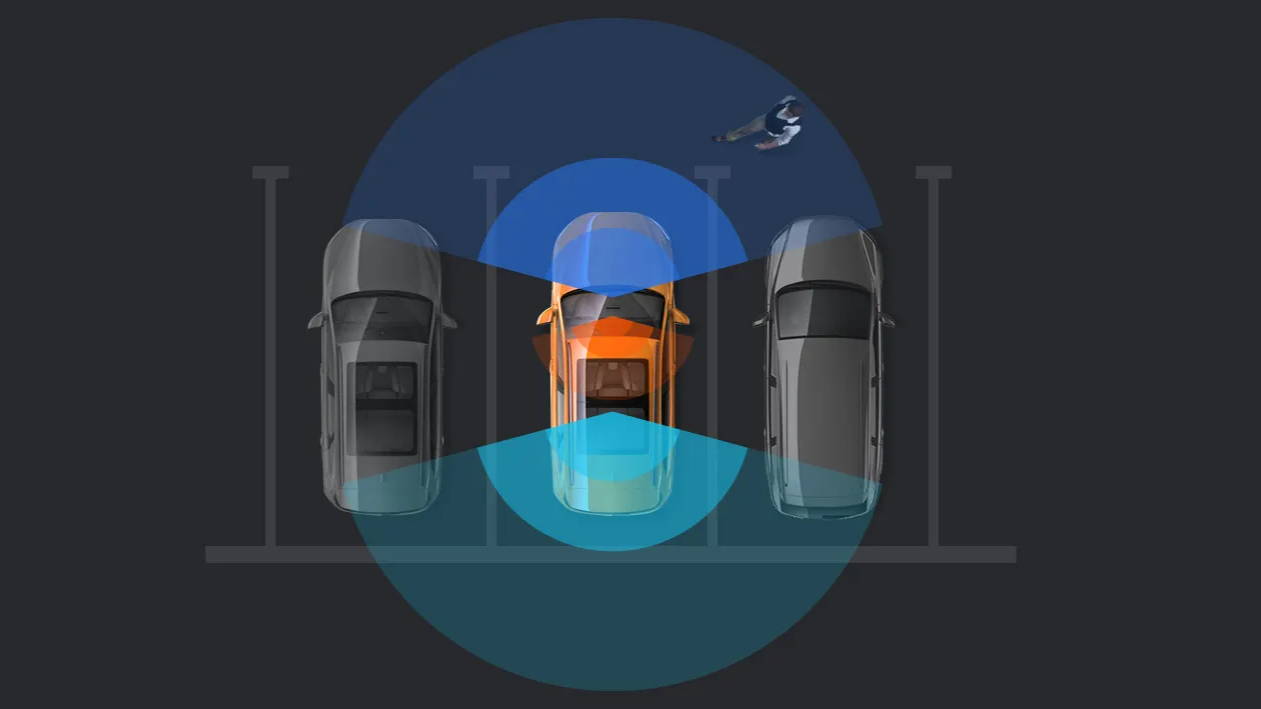 2022 Vantrue Mirror Cam 3 Optimal Settings Configuration

The optimal settings of this three-channel dash cam can be navigated by going to the menu settings. Easily customize over 30 settings for your front, interior and rear cameras through this done-for-you GUIDE. 
Vantrue Mirror Cam 3 Dash Cam Specifications

Resolution (Front | Rear | Interior)
2K QHD @30FPS | 1080p Full HD @30FPS | 1080p Full HD @30FPS
Imaging Sensor (Front | Rear | Interior)
5.14MP Sony STARVIS IMX335 | 2MP Sony STARVIS IMX307 | SOI JX-F52SA
Wide-Angle View (Front | Rear | Interior)
-20°C - 70°C (-4°F - 158°F)
12" IPS Anti-Glare Touchscreen
1-Year Manufacturer Warranty