How to Install a 2-Channel Dash Cam into a Toyota 4Runner
Shared to Us By Our Customer, Steve!
2015 Toyota 4Runner: 2-Channel Dash Cam Installation
This is a video shared to us by our customer, Steve, for the installation of the 2-channel Blackvue DR650GW-2CH on his 2015 Toyota 4Runner. I spoke with Steve prior to his purchase about how to mount the rear camera as the 4Runner poses a unique challenge due to the fact that the rear window can slide down completely.
We considered mounting it to the lower sill of the window. However, this would pose a number of issues: an unsightly cable that would dangle from the roof if the window were down and an increased risk of damaging the rear camera when transporting cargo. It wasn't really an option to mount it on the top edge either as that area is covered in a cloth headliner which wouldn't work well with adhesive and would not be very stable.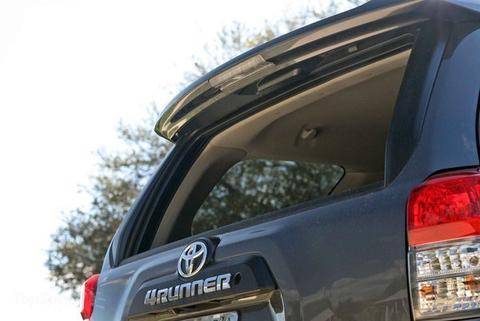 How Steve Tackled His Installation
Like any good engineer faced with a dilemma, Steve thought outside of the box to address the issue. He picked up a piece of metal bar stock from a hardware store and cut it to fit for this application. Essentially, he replaced the interior trim clip with a screw to secure that metal bracket, this doesn't involve drilling any additional holes in the vehicle and would be reversible as well! Once the bracket was installed it's simply a matter of attaching the adhesive mount for the rear camera onto that smooth flat surface.
We love Steve's ingenuity as his creative thinking actually made for a simpler installation that looks better as well. By not mounting anywhere on the liftgate the connecting cable does not need to be threaded through the rubber weatherproof tube between the trunk and main body of the vehicle which can be very tedious to do.
Furthermore there is no strain on the cable when opening and closing the trunk so all in all it's a very clever solution. In theory this would work on other SUVs and hatchbacks as well. We've also seen similar brackets/hardware used to mount rear cameras on convertible cars as well, and we love it when customers share these videos/experiences with us and any one who is considering a dash cam installation!
Interested in getting a dash cam of your own? Our product experts are here to help. Contact us directly today to get you setup with your own dash cam.
Explore Our eLearning Guides

Not to fret, our in-house product experts are here to help. We have spent years curating helpful content and video guides, helping customers with their dash cams, but we understand that we can always do better. Contact us using the form below and we'll get back to you as soon as we can. We love what we do, because we're here to help you make the most informed purchasing decision.