Blackvue B-130X vs. BlackboxMyCar PowerCell 8 Battery Pack

The Battle of the Boosters
We introduced the BlackboxMyCar PowerCell 8 in 2021 as a game-changing solution for dash cam users looking to maximize their dash cam's functionality and power. This battery pack, which provides peace of mind and confidence, has been one of our best-selling products aside from dash cams.
With the same goal of providing more power to its dash cam lineup, Blackvue also introduced an upgraded model of its B-124X Power Magic Ultra Battery - the all-new Blackvue B-130X. Let's see if the B-130X's new features can outperform the PowerCell 8.
Review: Blackvue B-130X Power Magic Ultra Battery

If you're wondering what distinguishes the B-130X from the B-124X, the answer is more power, higher accuracy, smarter wiring, and portability.
What are the new features of the B-130X?

More power. When the ignition is turned off, the B-130X recharges and powers your dashcam. It continues to use Lithium Iron Phosphate (LiFePO4) cells, which are extremely cold and heat resistant. In comparison to the B-124X, its sleek compact enclosure houses a large-capacity battery at 12.8V / 7,500mAh / 96Wh - bringing 25% more power.
Slimmer Design, Despite Slightly Heavier Weight
Portability. This Blackvue battery has a slightly lower total volume despite its larger capacity and heavier weight. While the B-124X is designed to be 157 mm x 171 mm x 39.5 mm, the B-130X is designed to be 152.7 mm x 206.0 mm x 33.6 mm at 1,537g.
Smarter Wiring. Moreover, it also has a smarter wiring detection feature. The B-124X has a 3-way Cigarette | OFF | Hardwire switch that the user must manually set depending on how the battery is connected to the vehicle's electrical system. Now, the B-130X has only an ON/OFF switch, and the battery automatically adjusts its power draw to match the wiring method.
Fuel Gauge Integrated Circuit

Higher Accuracy. The B-130X includes a fuel gauge integrated circuit, which was non existent in the B-124X. Its primary function is to monitor the current that enters and exits the battery. This means that battery capacity readings are more accurate, particularly when the battery is discharged (while powering your dashcam in Parking Mode).
Like the B124-X, it is compatible with both 12V and 24V electrical systems. This means it is compatible with the vast majority of personal, commercial, and heavy-duty vehicles on the market.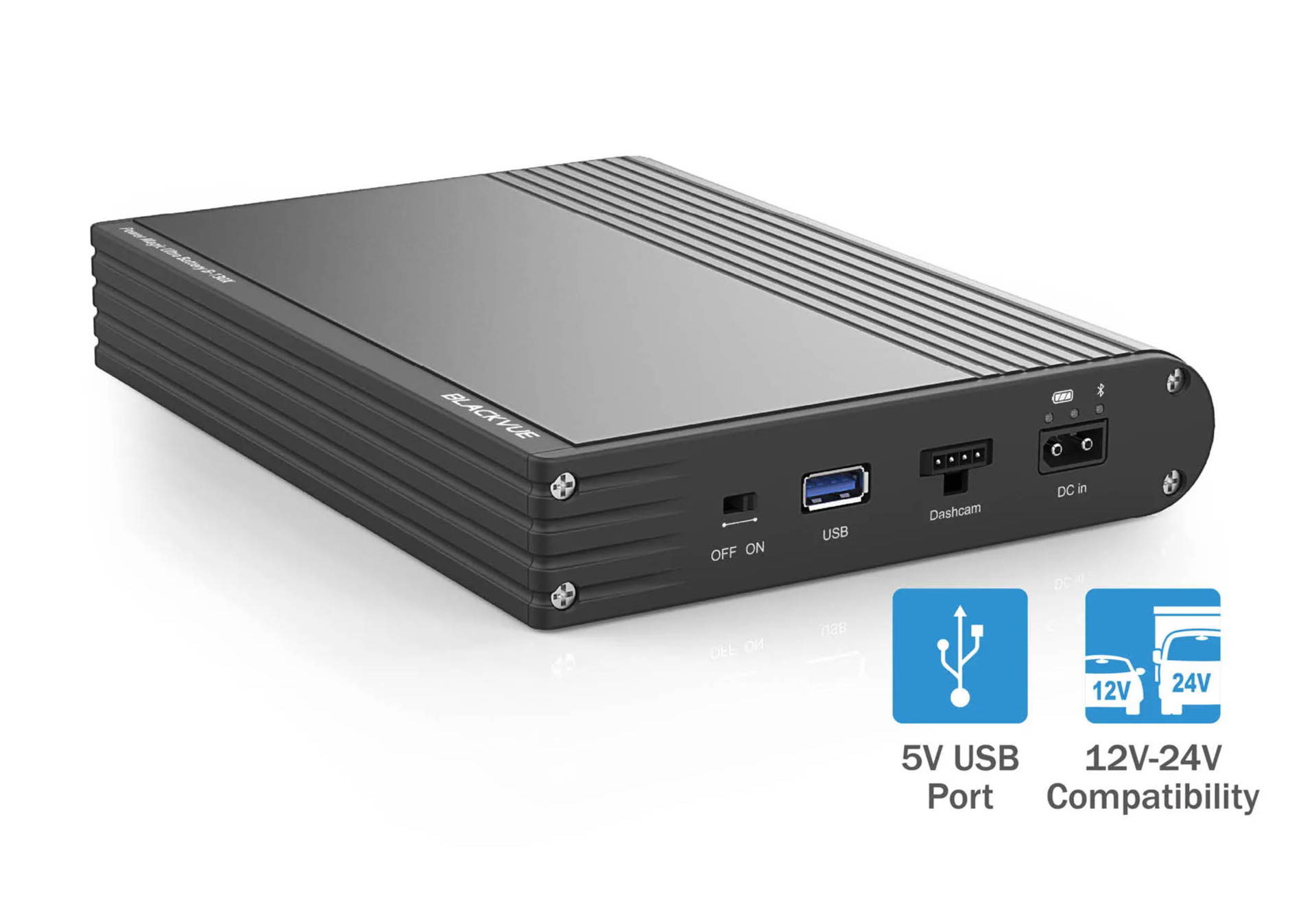 B-130X Installation and Charging Time

The B130-X supports two installation modes and automatically adapts its charging current accordingly.
Simple installation

: Just plug the battery into the 12V auxiliary power outlet (cigarette lighter socket) of your vehicle.
Hardwired installation: For the fastest charging speed, connect the battery to the fuse panel.
When connected to the cigarette lighter, the B-130X will draw at most 5A and charge in less than 90 minutes. When hardwired, the B-130X can draw up to 9A and charge in about 50 minutes - longer than 10 minutes for both installation types on the B-124X.
In the B-130X, you can charge any accessory, such as a phone or a Wi-Fi hotspot, using the USB power output to keep your Cloud dashcam connected while in Parking Mode.
You can use the BlackVue App wirelessly to track your battery status. When charging, the app displays the charge percentage, charging voltage, and estimated time remaining until full charge.
When the vehicle ignition is turned off, the app displays the remaining Parking Mode time based on the power consumption of the dashcam.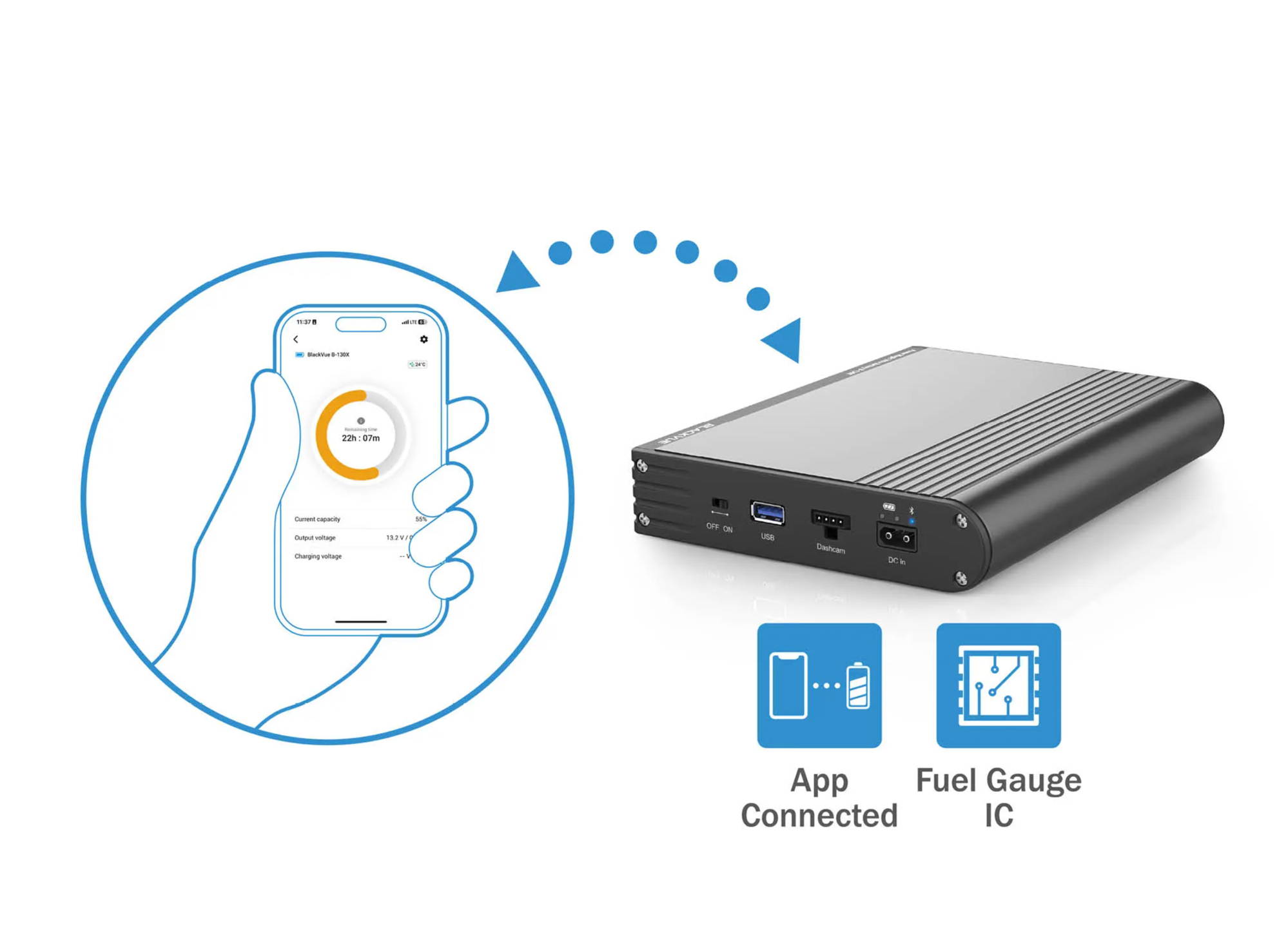 Review: BlackboxMyCar PowerCell 8 Dash Cam Battery Pack

The BlackboxMyCar PowerCell 8 was designed by BlackboxMyCar and is manufactured by Egen Inc, the world's largest and most trusted dash cam battery manufacturer, which also produces the Cellink NEO battery packs.
Cellink batteries are renowned for their dependability and compatibility with a wide range of dash cam brands, including Thinkware, BlackVue, VIOFO, Nextbase, Garmin, and others.
PowerCell 8 Battery Pack Features

More power. The BlackboxMyCar PowerCell 8 dash cam battery pack, like the B-130X, is built with the safest battery technology, LiFEPO4 (Lithium Iron Phosphate), which will keep your dash cam running in parking mode for longer hours in extreme weather conditions.
Because of the unique characteristics of LiFePo4, the BlackboxMyCar PowerCell 8 could be charged quickly in 50 minutes while also maintaining a longer life of up to 2,000 cycles even with frequent deep discharge cycles.
Portable. Slimmer than the B-130X, the Power Cell 8 measures 151mm X 204.8 mm x 32.6mm. Compared to other battery packs, the Power Cell 8 is easier to store under seats or in tighter spaces.

BlackboxMyCar PowerCell 8 Installation and Charging Time

The BlackboxMyCar PowerCell 8 comes with multiple input cables and options, including a 12V Power Cable that you can plug into the cigarette lighter socket (6A) in your vehicle and a Hardwiring Cable that you can connect to your vehicle's fuse panel (9A) for a faster charging speed.
Plug and Play

: If you don't want to deal with hardwiring, the 12V cigar socket power cable allows for a simple plug-and-play setup that doesn't require any hardwiring at all, though charging time will be longer, around 100 minutes for a full charge.
Hardwiring: If your daily commute is typically shorter, you should think about the hardwired rapid charge option. You can get a full charge in 50 minutes by connecting the battery pack to your vehicle's fuse panel.
BlackboxMyCar PowerCell 8 Connectivity

The BlackboxMyCar PowerCell 8 includes a 5V USB 3.0 power outlet, making it simple to add a mobile router to the dash cam setup in vehicles - ideal for those who have a Cloud-ready dash cam. Of course, the PowerCell 8 battery pack can also be used to charge your laptop, smartphone, and other USB-powered devices.
BlackboxMyCar PowerCell 8 has built-in Bluetooth and comes with a free Battery Manager App that you will use to monitor the status and the manage settings of the battery pack with just a few taps of your finger even if the battery pack is installed out of sight. The battery manager app is available from the Apple Store and the Google Play store - just search for "Cellink NEO Plus" - yes, the BlackboxMyCar PowerCell 8 uses the latest Cellink NEO Plus app.
Parking Mode Function: BlackboxMyCar PowerCell 8 Dash Cam Compatibility

Unlike the B-130X that's built solely for Blackvue dash cams, the BBMC PowerCell 8 is compatible with most dash cams on the market - making it a more efficient choice.
When purchasing the PowerCell 8 battery pack, there are several different output cables you can choose from.
Cigarette socket - this is the default option if you have a BlackVue dashcam
Unspliced Cable - with this option, you will get an unspliced output cable, which will require splicing before you can use it; if there's a specific way you need to splice the cable or prefer a more hands-on do it yourself approach, then this option would work best for you
Spliced Thinkware Hardwiring Kit - with this option, you will get an output cable that's pre-spliced specifically for Thinkware dashcams
Spliced VIOFO 3-Wire Hardwiring Kit - as the name suggests, you will choose this if you have a VIOFO dashcam
Spliced VIOFO USB-C Hardwiring Kit - this cable works only with the VIOFO A139 dashcam
If you are using something other than BlackVue, Thinkware or VIOFO, we recommend you go with either the cigarette socket or the unspliced cable option.
BlackboxMyCar PowerCell 8 Extended Battery Compatibility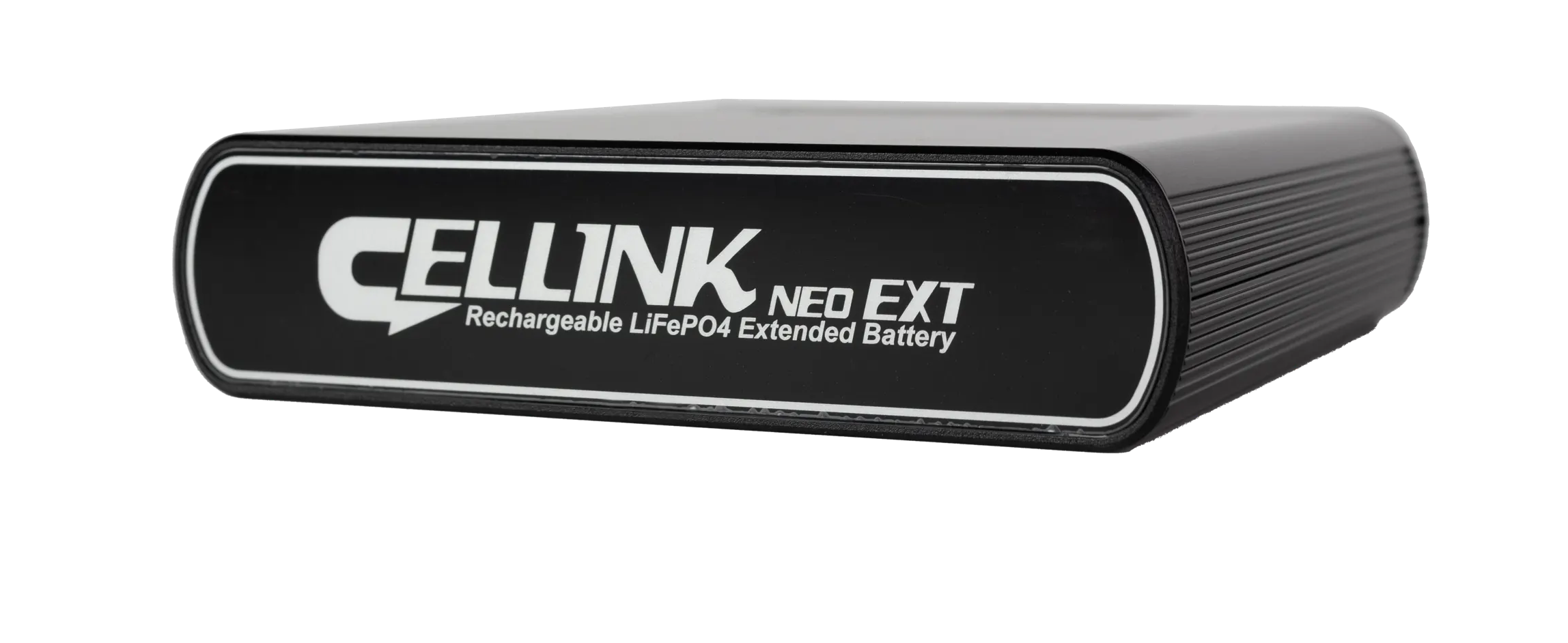 PRODUCT COMPARISON: BLACKVUE B-130X VS. BLACKBOXMYCAR POWERCELL 8

50 min (9A Hardwire) | 90 min (5A Cigarette Plug)
50 min (Hardwire) | 80 min (Cigarette Plug)
Charging Voltage and Current
14.2V / 5Ah (Cigarette Lighter Plug) 14.2V / 9Ah (Hardwired)
9A if hardwired | 6A if using cigarette lighter socket
Bluetooth | LED | Speaker
152.7mm X 206.0mm X 33.6mm
Power Switch (for Hardwire & Plug-and-Play)
Electrical Systems Compatibility
Extension Pack Compatibility
Cellink NEO Extended Battery Pack
Power Magic Ultra Battery B-130X, Cigarette lighter plug power cable (male), Output cable (Female cigarette lighter socket), Hardwiring power cable, Dashcam hardwiring power cable, Fuse tap kit (3 types), 2 velcro strips, User Manual
BlackboxMyCar PowerCell 8 Battery Pack, Output Hardwiring Cable, Cigarette Socket Input Cable (12V Power Cable), One of each Add-A-Fuse for battery packs (ATO, Low-Profile, Micro2, Mini), One power output cable of your dash cam (your choice) 2 Velcro Strips, User Manual
Verdict: Blackvue Power Magic B-130X vs. BlackboxMyCar PowerCell 8

Getting a battery pack for your dashcam is simple, but determining which option offers the highest quality and best value for money is tricky. We compared the capabilities of the all-new Blackvue B-130X and the BlackboxMyCar PowerCell 8 in this review.
The PowerCell 8 has a larger capacity and more power. In comparison to Blackvue's latest B-130x, which can provide 30 hours of parking mode operations for single channel dashcams and 19 hours of parking mode operations for dual channel dashcams, the BlackboxMyCar PowerCell 8 can provide up to 35 hours of parking mode operations for the single-channel Blackvue DR590X and up to 24 hours for the dual-channel edition.
Both have a dedicated mobile app for users to check their status. The compatibility with dashcams and extended batteries, on the other hand, is a deal breaker. The Blackvue B-130X obviously only works with Blackvue dashcams, whereas the PowerCell 8 works with any model.
Furthermore, if you need more power, the PowerCell 8 is compatible with the NEO Extended Battery Pack as well as the BlackVue Power Magic Ultra Battery Expansion Pack (B-124E), whereas the B-130X is not.
The PowerCell 8 is exclusively available in BlackboxMyCar. If you want to power up your drive and maximize its parking mode capabilities, we definitely recommend the PowerCell 8. Go get yours by clicking the button below!