FineVu GX1000 vs. 70mai M500 2K QHD Dash Cam Review
Which 2k Dash Camera is Better in Video Surveillance?
Having a full HD resolution dash cam was already a source of satisfaction for drivers a few years ago. With technological advancements, settling for full HD, especially for the front camera, is like settling for the basics - especially with the rise of 2K and 4K dash cams.
In the 2K dash cam lineup, two of the models we will look at today are the 70mai M500 and the FineVu GX1000. Let us see which of these can provide the most satisfaction in terms of image quality and car security.
Review: 70mai M500 Dash Cam

The 70mai M500 Dash Cam appears to have a very compact, simple design, with a cylindrical shape measuring slightly more than 5 inches in length and 1 inch in diameter. This keeps it small which is definitely useful for discreet installations.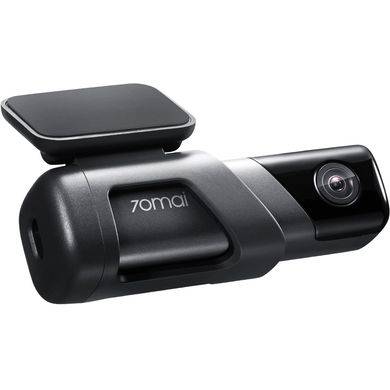 Image Quality and Recording Capabilities

The 70mai M500 single-channel dash cam comes with a 5-megapixel camera and a 170-degree lens for a wider viewing angle and fewer blind spots. This field of view is enhanced by a 2592 x 1944 pixel resolution, as well as a high definition range (HDR) to capture both poorly and brightly lit situations.
When video recording, the M500 includes a time-lapse recording function that condenses footage taken while the camera is partitioned into a short video. This feature allows you to view thirty minutes of video in one minute, which is more than enough time to identify incidents in front of your vehicle while also maximizing storage.
What are the Safety and Security Features of this 70mai Dash Cam?

The M500 has a 24-hour parking mode for added security. The camera's built-in G-sensor activates and begins recording when it detects any sudden impact or motion. For example, perpetrators who caused damage to your car can be apprehended in this manner. To fully utilize this feature, you will need to purchase an additional Hardwire Kit Type-C UP03 charging adapter.
The 70mai Dash Cam M500's ADAS will warn you of potential road hazards such as driving too close to the vehicle in front of you, driving off the lane, vehicle ahead motion, and the detection of a pedestrian or cyclist nearby your car.
Moreover, the positioning system on the M500 receives signals from both GPS and GLONASS satellites, allowing for stable and accurate positioning even in signal-obstructed areas. The camera has a voice control mode that allows you to give your camera voice commands while still driving.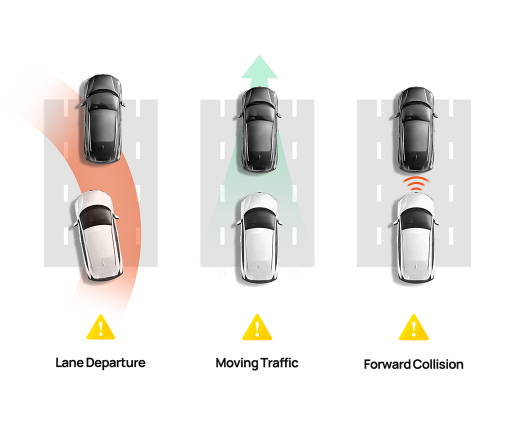 What is the M500's Storage Capacity?

Unlike other dash cams, you no longer need a separate memory card in the M500 due to the eMMC 5.1 built-in 128GB storage. 70mai decided to integrate the solid state memory directly into the internal circuit board rather than relying on a third-party microSD card. This, however, cannot be upgraded to a larger storage capacity.
Does 70mai have a Mobile App?

Because the 70mai M500 Dash Cam does not have a screen, it is controlled by a dedicated 70mai App that is available for both Android and iOS. The app allows users to view and download great footage by connecting to the camera via Wi-Fi.
Review: FineVu GX1000 2K QHD Dash Cam

The FineVu GX1000 is a new contender in the 2k dash cam wars. This dual-channel dash cam is expected to have a wide range of features for the driver and passengers' complete safety and convenience while remaining reasonably priced. Furthermore, the GX1000 is also considered as FineVu's first dash cam that offers 2K QHD in its front, and 2K QHD for the rear cam.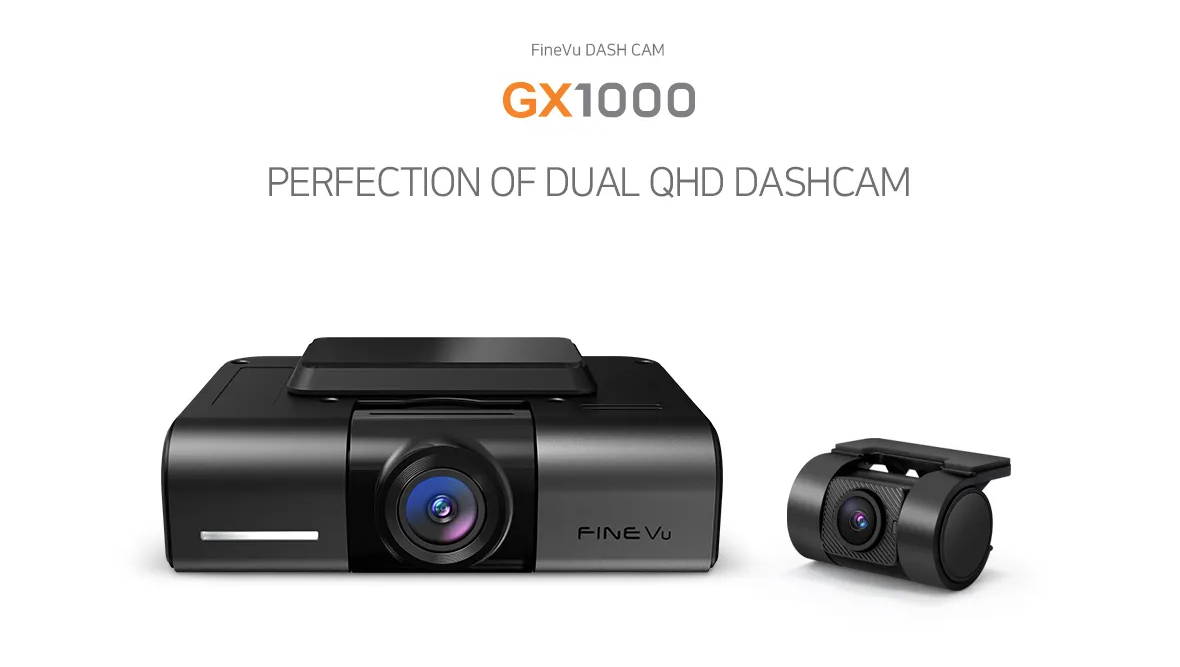 Image Quality and Recording Capabilities

The FineVu GX1000, like the 70mai M5000, has a 5 megapixel camera - but for two channels - thanks to the Sony Exmor R STARVIS sported in both cameras. The GX1000 captures excellent 2K QHD @ 30FPS video, aided by HDR and Auto Night Vision, which optimize video quality by automatically tuning to deliver bright images in low-light and high-contrast environments.
What makes the GX1000 a smart dash cam?

Aside from the 2K QHD front and rear camera resolutions, the GX1000 also has cutting-edge safety features that the M500 - or any other dash cam brand - does not have, such as AI Damage Detection 2.0, AI 2.0 Temperature Monitoring, and Auto Language Adjust.
In the event of an impact, AI Damage Detection uses machine learning technology and sensors to automatically scan the entire vehicle body structure.
The damaged area is divided into eight directions and the impact size levels are reported. When you get back into your car and start the engine, the GX1000 will notify you of the impact and display a video clip of the incident as well as the area that was most likely hit.
Above this new feature, the GX1000 also includes the number of safety features in the GX300, such as an Advanced Driver Assist System (ADAS), Speed Camera Alert and Driving Rest Guide.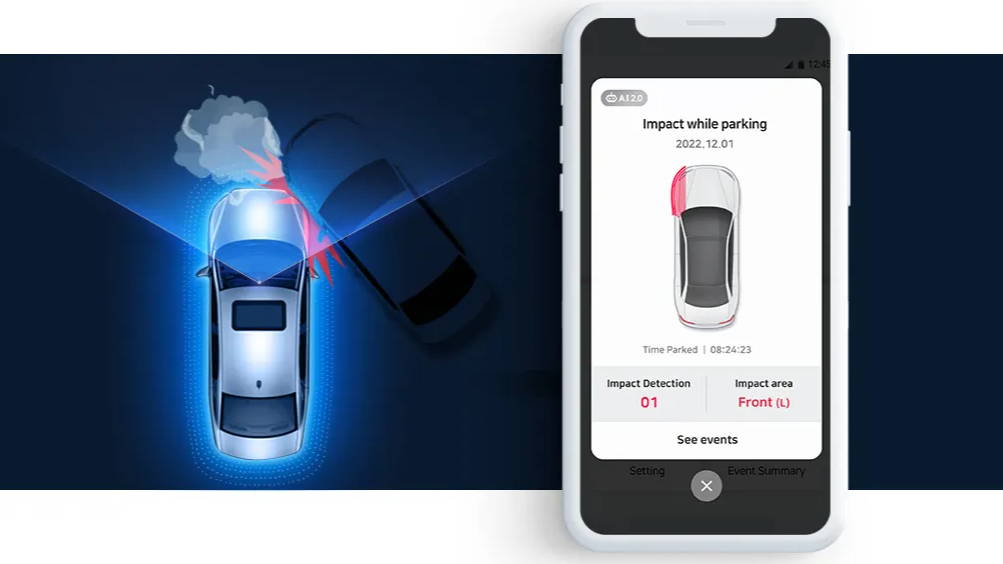 AI Smart Temperature Monitoring

While some dash cams easily shut down when exposed to hot regions and temperatures, the FineVu GX1000 ensures that it will continue to do its job even if it becomes hot. The FineVu GX1000 is designed to withstand high temperatures in hotter climates, constantly monitoring the ambient temperature and switching to Power Saving Mode if extreme heat is detected.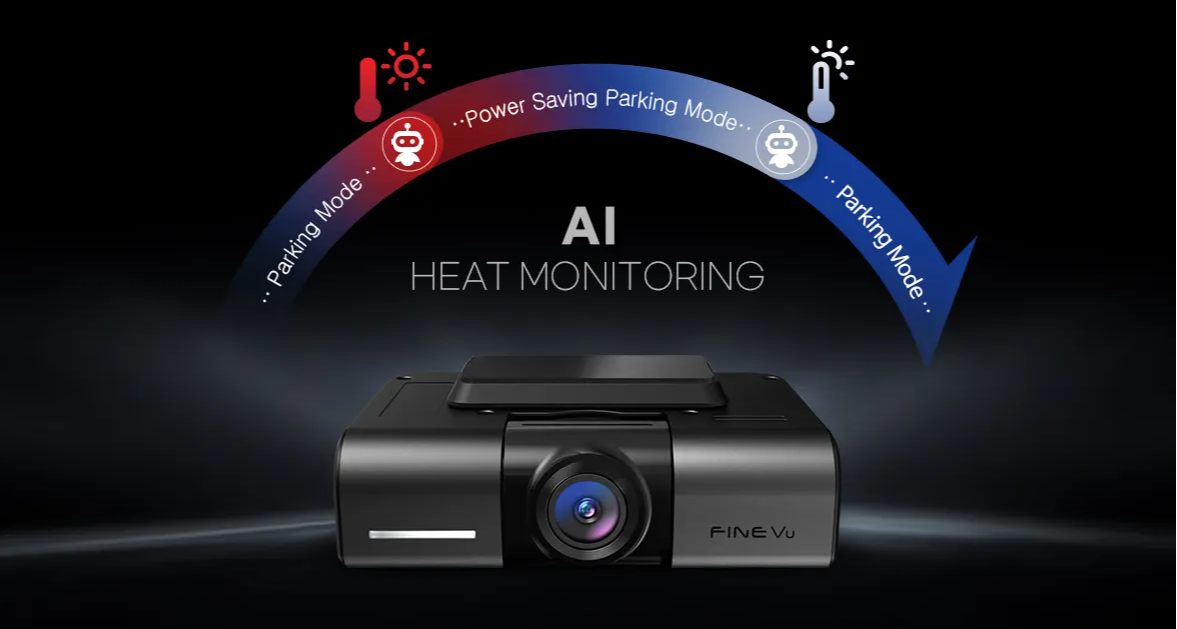 The FineVu GX1000 supports nine languages, including English, French, Spanish, Korean, Japanese, Vietnamese, Polish, Russian, and Dutch. The FineVu mobile app will auto-detect the language used on your smartphone and change the app language so you don't have to fiddle around with the app settings to find the language you need.
What are the GX1000's Convenience Features?

The GX1000 also has a Power Saving Mode to ensure that you get the most out of your dash cam. When parked, the GX1000 consumes only 0.06W for two channels with its GPS connection turned off. It also has the Smart Time Lapse feature, which ensures that impacts and events are properly captured while tripling, if not quadrupling, the storage capacity on your microSD card.
The GX1000, like the M500, is built compactly and lacks a screen. Because of the built-in FineVu WiFI connectivity, video playback will be viewed on the app, which is more convenient and hassle-free.
Aside from playback, you can also use the app to download and share videos, as well as access the settings configuration. FineVu also enhanced the user experience by including low voltage shut off features, anti-flicker, and new 15 fps settings, all of which are controllable via a phone app.
Product Comparison: 70mai M500 vs. FineVu GX1000  

2K QHD @30FPS | 2K QHD @30FPS
Sony STARVIS 5.1 MP in front
Sony STARVIS Sensor - 5.1 MP in front + 5.1 MP at rear
2.5K QHD, 5.1 MP Sony Starvis front camera, HDR, Night Vision, Time lapse, Voice Control, Parking Mode, GPS, GLONASS, ADAS, 128 GB Built-in storage, Wi-Fi, 70mai App, Tire Pressure Monitoring, Wide-Angle FOV
2K QHD and 5.1 MP Sony STARVIS image sensors for both front and rear cameras, Night Vision, Smart Time Lapse Feature, Voice Controls, Heat Resistance, Free Samsung 32 GB sd card, FineVu app, Parking Mode, Speed Camera Alerts, Driving Rest Guide, Free Hardwiring and Cigarette Cable, Wi-Fi, GPS, AI Damage Detection 2.0, AI Parking 2.0, 1-CH recording, Power Saving Parking Mode, Bitrate Control, 3- Year Manufacturer Warranty
Which is the Better 2K Video Surveillance Car Dashcam? 70mai M500 vs. FineVu GX1000

Both the 70mai M500 and the FineVu GX1000 are excellent choices for a dash cam with 2K QHD resolution. The 2K front dash cam coverage is already a good deal for the price of the 70mai M500. The security features are also important, and the compact design makes driving with a dash cam less distracting.
However, the M500 does not have a rear camera. If you want total security for your car, a single channel dash cam is not something we would recommend as it can only record the view of what's in front of you. Furthermore, the M500's built-in storage can also be an issue in the long run, as the storage capacity cannot be upgraded.
The FineVu GX1000 provides 2K QHD footage in the front and rear, as well as advanced driver assist features that only premium dash cams can provide for video surveillance. FineVu's artificial intelligence systems also protect your car from the dangers of overheating with its AI Smart Temperature Monitoring, as well as the AI Damage Detection 2.0 to accurately keep you informed of the events happening in your vehicle - even when it's unattended.
With that, it is safe to say that the GX1000 is not just FineVu's first 2K front and rear QHD dash cam. It's also one of the most intelligent parking modes and security dash cams that you can get in the market.
The FineVu GX1000 is available at BlackboxMyCar. Click on the button below and have your hands on the smartest parking mode dash cam today,