You Can Now Pay With Bitcoin
Due to market changes, we have stopped accepting cryptocurrency as of July 15th, 2022.
Customers have been asking for more payment options and we are excited to announce that from today, we are adding bitcoin and other cryptocurrencies to our list of accepted payment methods.
We have integrated with Coinbase Commerce to offer you a unique and trusted payment experience that allows you to pay for your Father's Day shopping and all your summer road trip essentials using your digital assets, including Bitcoin, Bitcoin Cash, Dai, Ethereum, Litecoin and USD Coin.
Checking Out with Cryptocurrency

When you checkout on BlackboxMyCar, you will see the option to pay with the cryptocurrency, alongside traditional payment options, ie. credit card or PayPal.
1. Make sure your order is correct.
2. Click Complete Order at the bottom of the checkout screen. Don't worry, you will not be billed right away - you will be taken to the next step for instructions on how and where to send your bitcoin.
And if you should decide you don't want to pay with your Bitcoin after all, you can cancel and return to the Payment Selection page.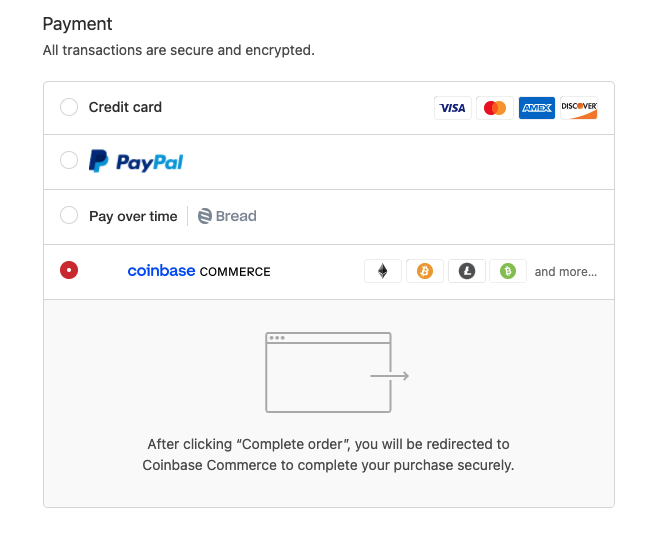 Refunds and Price-Matching
Many cryptocurrency holders wonder if volatility would affect your order. Say, if the digital currency were to take a dive tomorrow, would it affect the purchase you made today?
Typically, this won't be a problem because we trust that you are going to love and actually use the dash cam you purchased. But it is a valid concern in the event that you needed to return the dash cam for a refund or exchange. For this reason, if your purchase was made using any of the cryptocurrencies, we will issue the refund for the USD equivalent for the amount paid and to the email address that was used at the time of purchase.
For more information, please refer to our Returns and Exchange Policy here.
What about price-matching? It would work the same way, too - we will issue a price-match credit in the USD equivalent to the email address that was used at the time of purchase.
For more information, please refer to our Best Price Guarantee here.
And of course, if you ever have any questions or require further assistance, we are just a phone call/email/Live Chat away.